U.S. helicopter downs, killing 2
Insurgents shot down a U.S. helicopter south of Baghdad and killed two soldiers, the U.S. military said Monday. Their deaths, along with those of three other soldiers and two Marines, brought the weekend toll to seven U.S. service members.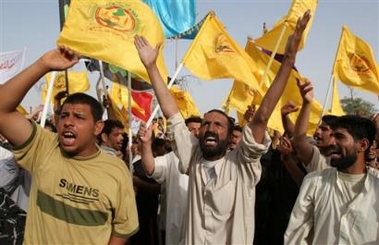 Iraqis rally in protest against the local governor in Basra, Iraq's second-largest city, 550 kilometers (340 miles) southeast of Baghdad, Sunday, May 14, 2006. Some 600 protesters demanded Basra governor to apologize for firing Basra police chief after recent clashes between British troops and local Iraqis. [AP]
Elsewhere, eight Iraqis were killed, including four teachers on their way to school and a civilian struck by a roadside bomb that hit an oil tanker, sending black smoke billowing over central Baghdad.
In southern Iraq, militants fired more than 30 mortar rounds at a British military camp, wounding four soldiers.
The helicopter attack occurred Sunday during fighting in Youssifiyah, 12 miles south of the Iraqi capital, the military said in a brief statement.
It was the second helicopter shot down in the past six weeks over that area, known as the "Triangle of Death" as the scene of a large number of insurgent attacks. An Apache helicopter went down there on April 1.
The two U.S. Marines died Sunday during unspecified "enemy action" in Anbar Province, the area of western Iraq that is the heart of the Sunni-led insurgency, the U.S. command said. Two U.S. Army soldiers also died Sunday in a roadside bombing in Baghdad.
The six fatalities raised to at least 2,443 the number of U.S. military personnel who have died since the Iraq war began in 2003, according to a count by The Associated Press. Another U.S. soldier was killed by a roadside bomb in Baghdad on Saturday.
The mortar barrage came at about 4:30 a.m. Monday at Camp Abu Naji in Amarah, 180 miles southeast of Baghdad, said British spokeswoman Capt. Kelly Goodall.
One of the British soldiers was badly hurt, but the others' injuries were not serious, said Holly Wheeler, a British Ministry of Defense spokeswoman in London.
The attack raised the total of British casualties in Iraq over the past nine days to six soldiers killed and five wounded. The other attacks also occurred in southern Iraq, an area that has been far more peaceful than central and northern Iraq where U.S. forces are based.