Rene Preval, the only elected president in Haiti's history to finish his term, was sworn in Sunday to again lead the impoverished nation in its latest attempt at democracy after decades of armed uprisings, lawlessness and foreign intervention.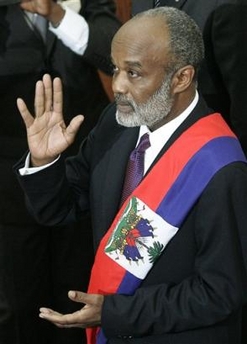 Wearing the sash of office, Haitian President Rene Preval waves in Port-au-Prince Sunday, May 14, 2006 after being sworn in as president. [AP]
Preval took the oath of office in a sweltering, packed Parliament chamber, and the Senate leader placed on him the presidential sash of Haiti's national colors ¡ª blue and red.
Afterward, he stood and waved as about 300 legislators and foreign dignitaries, including Florida Gov. Jeb Bush, Canadian Governor General Michaelle Jean and the actor Danny Glover, gave him a standing ovation.
The inauguration was the final step in Haiti's return to democratic rule two years after a bloody revolt ousted President Jean-Bertrand Aristide and plunged the Western Hemisphere's poorest nation into chaos.
In his inaugural address later outside the national palace, Preval urged unity among Haiti's fractured society and a return to peace after the February 2004 revolt.
"We need to make peace through dialogue and talking to each other so we can decide where we want to go together," said Preval. "If we don't talk, then we will only fight and there will be no peace."
Thousands cheered Preval, pressing up against the green iron gates surrounding the palace and waving Haitian flags as dozens of U.N. peacekeepers stood guard. Others danced and sang as traditional bands snaked through the crowd playing homemade horns and drums.
Preval urged Haitians to help maintain security so the country could create jobs, build roads and hospitals and move forward "without the presence of foreign troops."
"Haitian people, the solution to our problems is in our hands," he said. "Please help me, help the country, help yourself."
Preval, who previously governed Haiti in 1996-2001 and replaces a U.S.-backed interim government appointed after the revolt, is a former Aristide ally and champion of Haiti's poor.
The 63-year-old agronomist has pledged to unite the country's fractured society and restore peace, but he faces big challenges, including a corrupt state bureaucracy, a wrecked economy, roiling insecurity and the plight of prisoners.
In his first official act, Preval signed an accord integrating Haiti into a Venezuelan oil pact that supplies Caribbean countries with fuel under preferential terms. In a joint statement with Preval, Venezuelan Vice President Jose Vicente Rangel said Haiti would receive 100,000 barrels of oil on Monday as its first shipment.
Hours before the inauguration, prisoners demanding their freedom rioted at Haiti's national penitentiary, about a half-mile from the parliament building. There was no official word on casualties, though scores of inmates massed on the roof holding what appeared to be two dead bodies. Some prisoners unfurled a banner that read "Justice." Gunfire was heard within its walls.
The U.N. envoy to Haiti, Juan Gabriel Valdes, has said one of Preval's main priorities should be fixing the country's broken justice system.
"In Haiti, impunity is almost total for many criminals who roam free while the innocent and those wrongly accused of a crime stagnate in prisons," Valdes wrote in an editorial published Saturday in the Canadian newspaper Le Devoir.
Jela Altius, a 31-year-old food vendor, said she wants Preval to improve security.
"We want to be able to go out at any time of day and not worry that something is going to happen to us," Altius said.
Haiti's capital was gripped by a wave of kidnappings and killings after Aristide's ouster, but officials say violent crime has dropped sharply since Preval's victory in the Feb. 7 election.
Haiti's state-run electricity company ¡ª long derided for daily power blackouts ¡ª bought 800,000 gallons of fuel to ensure residents had electricity throughout the inaugural weekend.
Canada's governor general, Jean, who was born in Haiti and left the country with her family at age 11 to escape persecution by dictator Francois "Papa Doc" Duvalier, urged Haitians to work to maintain democracy.
"I think democracy has to prevail here, and I think it's so important to bring that hopeful spirit back to Haitians," Jean told reporters Saturday