A bikini-clad beauty queen protesting plans for a pulp mill in Uruguay pushed into a photo shoot of European and Latin American leaders at a summit on Friday and Venezuela's president said he blew her a kiss.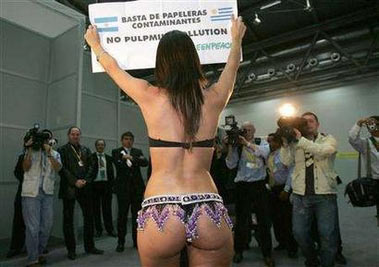 A Greenpeace activist holds up a sign to protest against pulpmill pollution after the family photo of the heads of states of European Union, Latin American and Caribbean at the 'IV Summit of the European Union, Latin America and the Caribbean' in Vienna May 12, 2006. [Reuters]
Evangelina Carrozo, Greenpeace activist and carnival queen from the Argentine town of Gualeguaychu, evaded security as she stripped to a tasselled bikini and thigh-high leather boots carrying a sign protesting plans for the pulp mill.
"She was very pretty and I blew her a kiss," said Venezuela's President Hugo Chavez, who spoke to reporters in Vienna after security ejected Carrozo from the room where the joint summit photo was taken.
"It was one of the best things that have happened at this summit," said Chavez, a left-winger who has become an icon of the anti-globalisation movement but has been criticised by other Latin American leaders in Vienna for his confrontational style.
Argentina has called for Uruguay to drop plans for the $1.7 billion pulp project along the Uruguay river that borders both countries, saying it will cause pollution.
The mills are being built by Finland's Metsa-Botnia and Spain's Ence.
Chavez said: "I didn't see anything about pulp, I was just looking at her."