South Korean cloning scientist indicted
(AP)
Updated: 2006-05-12 11:51
SEOUL, South Korea -- South Korean prosecutors on Friday indicted disgraced cloning scientist Hwang Woo-suk for alleged fraud, embezzlement and violation of bioethics law in a scandal over faked stem cell research.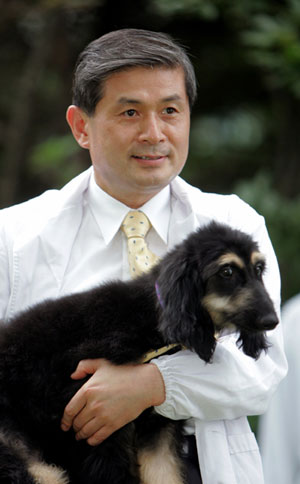 South Korean scientist Hwang Woo-suk holds Snuppy, the first male dog cloned from adult cells by somatic nuclear cell transfer, during a news conference at the Seoul National University in Seoul in this August 3, 2005 file photo. [AP]
Prosecution official Lee In-kyu announced the indictments of Hwang and five members of his research team during a nationally televised news conference. Lee said prosecutors had decided not to take them into custody. He did not elaborate.

Hwang - once hailed as a stem cell pioneer and treated as a national hero - was fired March from his post as a professor at Seoul National University's veterinary department after admitting he fabricated data in two high-profile papers published in academic journals in 2004 and 2005.

His now-discredited claims of breakthroughs in cloning and stem cells had offered hope of new treatments for millions of patients suffering from paralysis and debilitating diseases such as Alzheimer's and Parkinson's.

Hwang was charged on Friday with fraud for accepting 2 billion won (US$2.1 million; euro1.7 million) in private donations based on the outcome of the falsified research, Lee said. Hwang also embezzled about 800 million won (US$856,000; euro667,000) in private and government research funds, the official said.

Hwang also paid money to receive human eggs for research, a violation of the country's bioethics law, Lee said.

Prosecutors said Hwang falsified his research papers, but decided not to charge him for that, because "there has been no precedent in the world" of bringing criminal charges for fabricating academic papers.

Hwang was unreachable for comment. The office of Hwang's attorney Lee Geon-haeng said Lee did not come to his office Friday. A call to his cell phone was answered by a recording saying it was switched off.

Of the five researchers, one was indicted for obstruction of duty, three for fraud and one for violation of the bioethics law.