Former Fijian prime minister and coup leader has been charged with inciting a 2000 mutiny in army ranks, the police said Friday.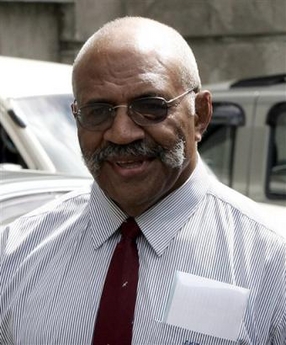 Sitiveni Rabuka, arrives at Suva Court in Fiji, Friday, May, 12, 2006 after being charged with inciting a violent mutiny in army ranks in 2000. [AP]
Sitiveni Rabuka, the military leader who led a coup in 1987 that ousted the democratically elected government and served as Fiji's prime minister from 1992 until he was defeated in 1999 elections, appeared in a Suva court Friday charged over the mutiny that killed eight soldiers.
A lawyer for Rabuka told the Suva Magistrates Court Friday the defendant would plead not guilty to a charge of inciting a bloody military mutiny.
Rabuka was released on bail to appear in the High Court later this month.
The former prime minister appeared relaxed as he walked with his lawyer up the front steps of the court in the capital Suva to face the charge.
The streets of Suva remained quiet Friday at the end of a week of polling, an allegation of election fixing and speculation that the ballot could trigger this South Pacific nation's fourth coup in a decade.
The appearance comes the day before polling closes for Fiji's parliamentary elections in which the opposition leader who defeated Rabuka in 1999, Fiji Labour Party Leader Mahendra Chaudhry, is standing again.
Chaudhry became the first ethnic Indian Fijian to lead this racially divided country. But he lasted barely a year before he was overthrown in a civilian-led coup backed by elements of the military in May 2000.
Fiji's military chief Commodore Frank Bainimarama is widely credited with ending the 2000 coup without bloodshed by declaring martial law and installing Laisenia Qarase as interim prime minister.
Neither Qarase nor Chaudhry could be immediately contacted for comment about Rabuka's arrest.
"This is a perfect indication that there is no government interference in such police decisions," Qarase's spokesman and strategist Shahendra Baba said. "Otherwise you wouldn't have prominent Fijians being charged like this."
Qarase's indigenous Fijian-dominated Soqosoqo Duavata Ni Lewenivanua (SDL) party was comfortably re-elected at the last elections in 2001.
But Bainimarama has become a vocal critic of Qarase, accusing him of leniency toward the 2000 coup conspirators.
Bainimarama was the target of the November 2000 military mutiny in which rebel members of the army's elite Counter Revolutionary Warfare Unit stormed the officers' mess where the military chief was having lunch. Five rebel soldiers and three loyalist troops died but Bainimarama escaped.
Rabuka, who was withdrawn as the SDL government's nomination for ambassador to the United States last year because Washington was slow to accept him, volunteered his services as mediator to negotiate a resolution to the mutiny.
Rabuka founded the elite army unit, a number of whose members supported the coup that ousted Chaudhry and were accepted back into the army.
The eight-day process of collecting ballots from booths scattered across the third of Fiji's 300 far-flung islands that are inhabited has been marred by Chaudhry's allegation that thousands of extra ballot papers have been printed to create bogus ballots for the ruling SDL party.
Police will make public Friday the results of their investigation into his allegation at the same press conference in which they will detail the allegation against Rabuka, Elections Supervisor Semesa Karavaki maintains there have been no irregularities in ballot production and that extra ballots were printed to avoid shortages.
Fewer than a third of Fiji's 450,000 registered voters had cast their ballots by the end of Wednesday and Karavaki said he was hoping for an improved turnout in the final three days.
Heading into this week's elections, Qarase's party held 37 of Parliament's 71 seats and Labour had 28.
Observers fear a Qarase victory would ensure more destabilizing conflict between government and the military while a Chaudhry win could incite some within the indigenous Fijian minority to stage another coup.
Voting lasts for a week because of the challenges of getting ballot boxes to and from remote areas. Results will not be known until after counting starts on May 15.