Iran says it's ready to negotiate
(AP)
Updated: 2006-05-11 22:27
Iran's president said Thursday he was ready to negotiate with the United States and its allies over his country's nuclear program but he also suggested that any threats against Tehran would make the dialogue more difficult.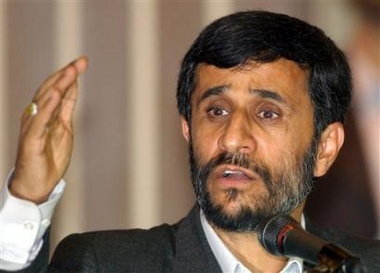 Iranian President Mahmoud Ahmadinejad gestures during his speech to Indonesian students in Jakarta, Indonesia, Thursday, May 11, 2006. Ahmadinejad on Thursday called Israel a tyrannical regime that will one day will be destroyed, and vowed to continue defending his country's right to develop nuclear technology. [AP]


President Mahmoud Ahmadinejad also intensified his verbal attacks on Israel, calling it a "a tyrannical regime that one day will be destroyed."

The Iranian leader, known for his fiery rhetoric, made his remarks to cheering students and in a television interview during a visit to the world's largest Muslim majority nation amid a deepening standoff with the West over Tehran's nuclear program and suspicions it is seeking atomic weapons.

Asked what it would take to begin talks with the United States to resolve the standoff, Ahmadinejad told Metro TV that Iran "is ready to engage in dialogue with anybody."

"There are no limits to our dialogue," Ahmadinejad told Metro TV station. "But if someone points a weapon at your face and says you must speak, will you do that?"

Key U.N. Security Council members agreed Tuesday to postpone a resolution that would have delivered an ultimatum to Tehran, giving Iran another two weeks to reevaluate its insistence on developing its uranium enrichment capabilities.