Under growing pressure from Washington, China on Thursday stuck to calls to defuse the Iran nuclear row through diplomacy and said it disapproved of using sanctions in international disputes.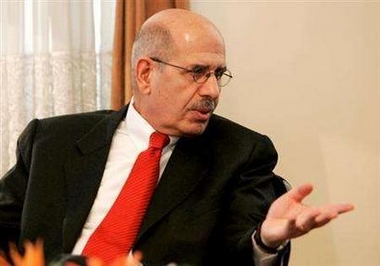 Head of the International Atomic Energy Agency (IAEA) Mohamed ElBaradei attends a meeting with Iran's Chief nuclear negotiator Ali Larijani (not pictured) in Tehran April 13, 2006. ElBaradei on May 11, 2006 welcomed the U.N. Security Council's holding off from imposing sanctions on Iran over its nuclear programme. [Reuters]
U.S. Deputy Secretary of State Robert Zoellick of State said on Wednesday that China's handling of the deepening dispute over Iran's nuclear activities -- which Washington and EU powers say are pitched toward reaching the ability to make atomic weapons -- would be a "critical" test of China-U.S. ties.
Asked about Zoellick's comments, a spokesman for China's Foreign Ministry, Liu Jianchao, sidestepped providing a response and called for intensified diplomacy.
Liu told a regular news briefing in Beijing that the Iran dispute was at a "crucial moment" and China hoped to see "continued diplomatic efforts" to broker a peaceful solution.
"We disapprove of rashly applying sanctions or threats of armed force to resolve international disputes," Liu said.
Washington and its European allies are seeking a U.N. Security Council resolution that would require Iran to stop enriching uranium, or face possible sanctions.
But Russia and China have so far resisted Washington's calls for tougher U.N. action, especially a resolution that could pave the way for sanctions against Iran.
Russia and China are, along with the United States, Britain and France, a veto-wielding permanent members of the U.N. Security Council.
Washington has also leaned on Beijing to bring North Korea back to six-party talks over Pyongyang's nuclear weapons plans.
South Korea, Japan and Russia also take part in the talks.
The last round of those talks was in November, and efforts to restart them have languished after Pyongyang said it would not rejoin them while Washington threatened sanctions after finding North Korea laundered money and issued counterfeit U.S. currency.
Liu called on Pyongyang and Washington to patch up their differences by being "flexible and pragmatic."