Asked to say one nice thing about President Bush, Sen. Hillary Rodham Clinton went one better: He named two things - charm and charisma.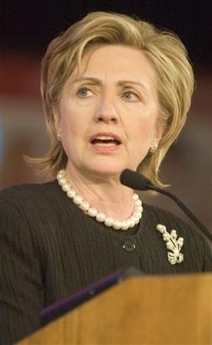 Sen. Hillary Rodham Clinton, D-N.Y., speaks at a conference in Albany, N.Y., Saturday, April 29, 2006. [AP\File]
"He is someone who has a lot of charm and charisma, and I think in the immediate aftermath of 9/11, I was very grateful to him for his support for New York," Clinton said Tuesday night during a talk at the National Archives about her life in politics.
Clinton, a potential presidential candidate in 2008, said that despite their "many disagreements about many, many issues," she has always had a good personal relationship with the president.
"He's been very willing to talk. He's been affable. He's been good company," said Clinton, D-N.Y.
The junior senator from New York, who is up for re-election this year, said she is still thankful for Bush's personal commitment to helping rebuild lower Manhattan after Sept. 11, 2001.
She recalled how the president, in the grim days that followed the terror attacks, pledged in a private meeting with New York lawmakers to help rebuild the shattered city.
"It was a very personal, very emotional discussion and when we asked him for the help that New York needed he immediately said yes," said Clinton.
At that meeting, Bush pledged more than $20 billion in aid and tax incentives. Some New York Democrats have since charged the Bush administration has fallen billions of dollars short of that goal because some of the programs were underused, but Clinton said the president kept his promise.
"He always kept it on track," she said. "He made sure we got the resources that we needed and I'm very grateful to him for that. ... I am very appreciative in the time when the people I represented needed his help, he was there for us."