Israeli prime minister designate Ehud Olmert's Kadima party signed a coalition deal with the Labour party on forming a government which will aim at fixing Israel's final borders.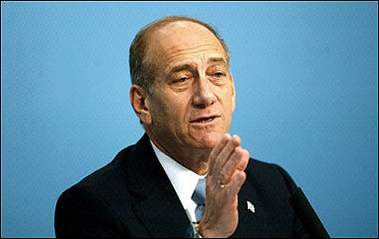 Israeli prime minister designate Ehud Olmert's Kadima party reached a coalition deal with the Labour party on forming a government which will aim at fixing Israel's final borders. [AFP]
The accord follows marathon negotiations between the two parties which had agreed in principle to establish a coalition government back on April 4 after the March 28 general election won by Kadima.
"We have successfully outlined the government's programme for the next coalition government," said David Libai, a representative for Labour leader Amir Peretz.
One of his counterparts in Kadima said "long and difficult negotiations had ended with a solid agreement for the two parties and for the state of Israel."
Olmert has stated that his government's top priority will be to fix the permanent borders of the Jewish within his four-year term of office, with or without agreement from the Palestinians.
Labour and all other potential coalition partners have had to accept the outline of Olmert's so-called convergence plan which will see Israel uproot around 70,000 Jews from the occupied West Bank.
In turn, Olmert intends to keep hold of the large housing blocs where the vast majority of the quarter of a million Jewish settlers live.
Under the deal, Labour has seven posts in an expanded cabinet of around 27 ministers, including defence, education and agriculture, along with four other ministries, including two without portfolio.
Israeli public television said Labour's central committee would meet on Sunday to approve the coalition agreement and select those who will serve each portfolio.
Olmert, however, has indicated that Peretz will become defence minister, having blocked his demands to be made finance minister, despite the fact that the trade unionist has no significant security background.
"I'm convinced he's going to be a good defence minister," the premier designate told a group of schoolchildren visiting his residence on Wednesday. "I have faith in his judgment and in his sense of responsibility."
The deal with Labour, following an agreement with the Pensioners party on Wednesday, grants Olmert a loyalty base of 55 seats in the 120-member Knesset.
The ultra-Orthodox Shas, which won 12 seats in the election, was also set to sign a coalition deal with Kadima that would cement the government's majority in parliament.
But Olmert's dream of a broader coalition with the ultra-nationalist Yisrael Beitenu party appeared to come unstuck amid disagreements over his planned unilateral withdrawal from the occupied West Bank.
"We cannot accept a unilateral withdrawal without international guarantees for our future borders," leader Avigdor Lieberman told reporters. "Such a withdrawal will amount to capitulation in the face of terrorism."
The appointment of Peretz to the defence ministry would be one of the most eye-catching aspects of the new government which will be one of the largest in the history of the Jewish state.
The current incumbent, former army chief Shaul Mofaz, is understood to be furious at being shunted out, although he may well be appointed to another key portfolio.
Kadima has also been forced to give up control of the education ministry to Labour, leading the man initially slated for the position, Uriel Reichman, to announce his resignation from parliament on Sunday.
Kadima, which was created in November by then prime minister Ariel Sharon, had been expected to win more than its eventual tally of 29 seats in pre-poll forecasts, forcing it to give Labour a greater slice of power.
Olmert's convergence plan is seen as a natural successor to Sharon's disengagement plan that saw Israel pull all its soldiers and settlers out of the Gaza Strip last year.
He is due to travel to Washington next month for his first talks as leader with George W. Bush having already spoken of his desire to implement his plan before the US president leaves office at the beginning of 2009.