Bush eases environmental rules on gasoline
(AP)
Updated: 2006-04-26 19:41
Under election-year pressure to reduce surging gasoline prices, President Bush on Tuesday halted filling of the nation's emergency oil reserve, urged the waiver of clean air rules to ease local gas shortages and called for the repeal of $2 billion in tax breaks for profit-heavy oil companies.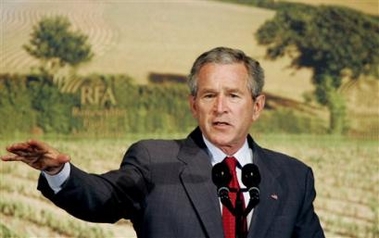 President Bush delivers a speech on energy to the Renewable Fuels Association in Washington Tuesday, April 25, 2006. Bush on Tuesday ordered a temporary suspension of environmental rules for gasoline, making it easier for refiners to meet demand and possibly dampen prices at the pump. [AP]
Still, experts said Bush's actions wouldn't have much impact on prices at the pump. The president warned that motorists would have to dig deep into their pockets all summer long.
Bush urged lawmakers to expand tax breaks for the purchase of fuel-efficient hybrid automobiles, a politically popular measure that's also supported by environmentalists. He also directed the Environmental Protection Agency to use its authority to temporarily waive air quality laws in states if that would relieve a local gasoline supply shortage.
The White House was unable to say how much Bush's actions could affect the price of gas.
Bush said, "Every little bit helps."