BAGHDAD - Al Qaeda leader in Iraq Abu Musab al-Zarqawi appeared in a rare video on Tuesday to denounce the new government as an American puppet designed to help Washington pull out of its woes in the country.
In the well-produced 35-minute video posted on the Internet, America's most wanted man in Iraq, dressed in black with a green ammunition belt, warned of more attacks: "What is coming is more painful."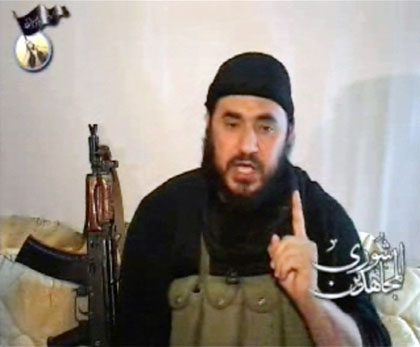 The leader of al Qaeda in Iraq, Abu Musab al-Zarqawi, speaks in a rare video of him posted on the Internet on April 25, 2006. Zarqawi said Mujahideen were fighting on despite a three-year "crusader" war in Iraq. [Reuters]


The video, which an accompanying statement says is his first after he previously used audio tapes, comes two days after an audio message from Osama bin Laden was aired and a day after a bombing in Egypt killed 18 people.

The Zarqawi video first came on air in Iraq at about the same time Prime Minister-designate Jawad al-Maliki appeared on state television in a taped interview to say he was talking with all political parties to form a government of national unity.

Washington and many others see a coalition grouping majority Shi'ite Muslims, Sunni Arabs and Kurds as the only way to end the insurgency and stem sectarian bloodshed.

"This democratic play which you brought to Iraq after you promised people freedom and ... economic stability has gone with the wind," Zarqawi said.

"Today, you are trying with all means to assemble people who differ among themselves ... and apostates to form a government to save you from your critical situation," he said, at times depicted firing an assault rifle, training soldiers in the desert or consulting masked aides over a map.

Some political leaders have publicly written Jordanian-born Zarqawi off as a spent force, and he has kept a low profile recently.

But Western intelligence sources and most analysts say he remains powerful and has simply switched his sights from the U.S. military to Iraqi soldiers and police.

As Zarqawi's video appeared on television, Maliki, a tough-speaking Shi'ite with four weeks to name a cabinet acceptable to parliament, gave one of the most comprehensive outlines of his vision since President Jalal Talabani asked him to become premier on Saturday.

NO MILITARY SOLUTION

He urged Shi'ites, Kurds and Sunnis to unite against suicide bombings, shootings and assassinations that have killed many thousands of security force personnel and civilians since the 2003 U.S.-led invasion, but warned there was no military solution.

"Force alone will not wipe out terrorism. If it ends in one place it pops up in another. If we are to succeed with all Iraqi people there must be solutions to unemployment and start a process of investment," he said.

Sectarian violence has rocketed since the bombing of an important Shi'ite shrine in February, and Maliki warned failure to disband militias -- linked to major political parties -- threatened to push Iraq into civil war.

"The weapons must be in the hands of the state. Their presence in the hands of others (militias) will be the start of problems that will trigger a civil war," he said.

Late on Monday, Maliki said he planned to deliver his new cabinet and government well ahead of the 30-day deadline:

"God willing, I am setting myself a timetable of 15 days to finish forming the cabinet and deliver it to the parliament."

In Washington, President George W. Bush, whose poll ratings have hit the lowest of his rule amid public disenchantment with the war, has welcomed Maliki's appointment as a historic moment.

U.S. forces are "engaged in heroic efforts" to help Iraq succeed, he said. "We're on our way to victory." There are 130,000 U.S. troops in Iraq.

"We've got more work to do. But the people -- our troops need to know and those working in the field need to know -- that there is a bipartisan desire for us to be successful in this very important theater in the war on terror."

Washington has said a government of national unity will strengthen Iraq and improve its ability to maintain its own security, paving the way for some U.S. troops to go home.

But U.S. ambassador to Iraq Zalmay Khalilzad, who led very public U.S. efforts to push politicians into agreement, also warned Americans to prepare for a long engagement in Iraq and the region.

"We must perhaps reluctantly accept that we have to help this region become a normal region, the way we helped Europe and Asia in another era," he told the Los Angeles Times. "Now it's this area from Pakistan to Morocco that we should focus on.