Bush orders probe into gas price
(AP)
Updated: 2006-04-25 21:31
President Bush, under pressure to do something about gasoline prices that are expected to stay high through the summer, ordered an investigation into possible cheating in the markets. The government also asked states on Tuesday to guard against unfair pricing.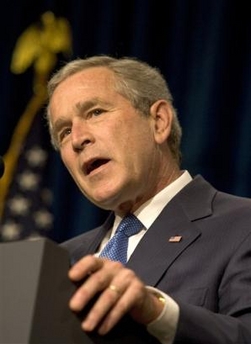 President Bush speaks to supporters at a fundraising luncheon for U.S. Rep. Jon Porter at the Venetian Resort Hotel and Casino, in Las Vegas, Monday, April 24, 2006. [AP]

During the last few days, Bush asked his Energy and Justice departments to open inquiries into whether the price of gasoline has been illegally manipulated, said White House press secretary Scott McClellan. Bush planned to announce the action Tuesday during a speech in Washington.

It's unclear what impact, if any, Bush's investigation would have on prices that are near or at $3 a gallon or more. Asked if Bush had any reason to suspect market manipulation, McClellan responded, "Well, gas prices are high right now, and that's why you want to make sure there's not."

Republicans who control Congress have become concerned that the high cost of filling up could become a problem for them in the November elections. Polls suggest that voters favor Democrats over Republicans on the issue, and Bush gets low marks for handling gasoline prices.

The administration sent letters Tuesday to state attorneys general urging them to vigorously enforce state law "against any anticompetitive, anticonsumer conduct in the petroleum industry."

"Consumers around the nation have expressed concerns about what they have perceived as anticompetitive or otherwise unfair conduct by the world's major oil companies," said Attorney General Alberto Gonzales and Federal Trade Commission Chairman Deborah Platt Majoras. Their letter said federal agencies had substantially increased efforts to monitor, detect and prevent any violations of the law.