S.Korea says will never abandon disputed isles
(Reuters)
Updated: 2006-04-25 18:27
SEOUL - South Korea's president, facing criticism at home for being too lax in a territorial row with Japan, went on television on Tuesday to vow never to compromise on sovereignty over the disputed islands.

In a national address, President Roh Moo-hyun said Seoul would never abandon the islands, called Tokto in Korean and Takeshima in Japanese, which lie almost midway between the mainlands of the two countries.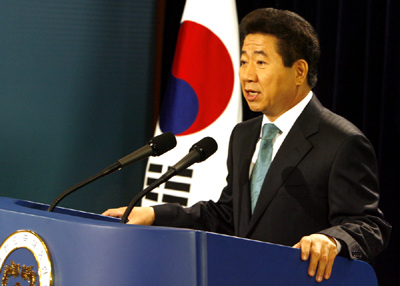 South Korean President Roh Moo-hyun speaks to the nation at the presidential Blue House in Seoul April 25, 2006. South Korea will never abandon islands at the centre of a territorial fight with Japan and will deal sternly with any claims by Tokyo to the outcrops, its president said on Tuesday. [Reuters]


"To Koreans, Tokto is a symbol of the complete recovery of sovereignty," Roh said, according to an English translation provided by the presidential office.

He saw Japan's claim originating from its colonial rule over the Korean peninsula between 1910 and 1945 and said that, as long as Tokyo failed properly to address its militarist past, it would be impossible for Seoul and Tokyo to have friendly relations.

"For this is a matter where no compromise or surrender is possible, whatever the costs and sacrifices may be," Roh said.

The islands, controlled by South Korea, sit in rich fishing grounds. Seoul's state gas firm says they lie above unexploited energy resources potentially worth billions of dollars.

Seoul and Tokyo reached a deal on Saturday to avoid a possible high-seas showdown after Japan announced a plan to send survey ships to waters near the islands and South Korea sought to thwart it by putting its coast guard patrol boats on high alert.

Many in South Korea criticised the deal as giving up too much to Tokyo. With local elections across the country due at the end of May, Roh, with an approval rating below 30 percent, is feeling the pressure.

WINNER OR LOSER?

"A cool-headed analysis of the negotiation result, in fact, shows that Japan has gained practical benefits," the conservative daily Chosun Ilbo said in a weekend editorial.

In the deal, Japan agreed to call off its planned maritime survey while Seoul said it would drop plans to register Korean names for undersea features near the islands at an international conference in June.

Roh said in his address it was still within South Korea's rights to seek Korean names for the seabed features.

Critics in South Korea say that by agreeing not to register the names Seoul had given Tokyo exactly what it wanted while advertising Japan's claims to the islands.

South Korea is planning a nautical survey near the islands, an official said on Tuesday, adding that the survey had been scheduled before the recent flare-up over the outcrops. Similar exercises have been conducted several times in recent years.