Koizumi blamed for icy China ties: poll
(AP)
Updated: 2006-04-25 10:58
TOKYO -- A majority of Japanese blame Prime Minister Junichiro Koizumi for their country's deteriorating relations with neighboring China, a newspaper poll showed Tuesday.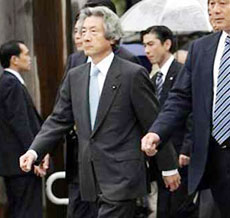 Japanese Prime Minister Junichiro Koizumi arrives at the Yasukuni Shrine in Tokyo in this October 17, 2005 photo. [AP]

About 72 percent of those polled by the Yomiuri newspaper said the current state of relations between the two Asian economic powers is "severe," in light of there being no summit visits between the two countries since 2001, the year Koizumi took office.

Nearly 61 percent said the icy relations were Koizumi's fault, mainly because of his visits to Tokyo's controversial Yasukuni war shrine, which China and other Asian nations revile as glorifying Japan's militaristic past.

Under Koizumi's tenure, ties between Japan and China have become their most strained in decades. Aside from the Yasukuni visit, the two countries have squabbled over Japanese text books that critics say whitewash World War II atrocities. The countries are also locked in a standoff over gas fields in the East China Sea.

Last year, anti-Japanese riots erupted in several Chinese cities, with protesters attacking Japanese interests there.

Koizumi's October 2005 visit to Yasukuni, which honors 2.5 million war dead, including executed war criminals, sparked further outrage in China, and the government in Beijing has since said it won't hold a summit with Koizumi unless he halts them.

Koizumi has made one visit a year since coming to power and has refused to alter that policy.

According to the same Yomiuri poll, only 54 percent of those surveyed support Koizumi's policy of visiting Yasukuni, while 40 percent oppose it.

The newspaper surveyed 3,000 eligible voters in face-to-face interviews at 250 sites countrywide from April 8-9. It provided no margin of error.