Bush's approval rating hits new low
(Reuters)
Updated: 2006-04-25 07:02
US President George W. Bush's public approval rating has fallen to 32 percent, a new low for his presidency, a CNN poll showed on Monday.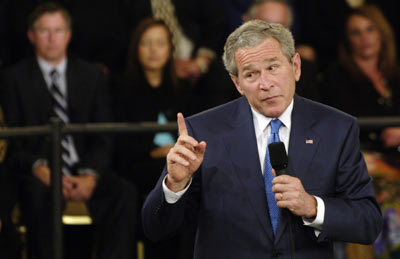 US President George W. Bush answers an audience member's question following his address to the Orange County Business Council in Irvine, California, April 24, 2006. [Reuters/file]
The survey also showed that 60 percent of Americans disapprove of the way Bush is handling his job.
Bush's poll numbers have languished below 40 percent in the last couple of months, hit by growing public opposition to the Iraq war, his support for a now-abandoned plan for a Dubai firm to take over major U.S. port operations and American anger over gas prices now topping $3 a gallon at the pump.
Continuing fallout from the Bush administration's mishandling of the initial response to Hurricane Katrina has also hurt his popularity.
Bush's approval rating as measured by CNN's poll dropped from 36 percent in March. His lowest job performance measure has been 32 percent, in a Fox News poll this month.
Bush has launched a shake-up of his White House staff in an effort to revive his popularity and stave off concerns of fellow Republicans that they could lose control of both houses of Congress in a November midterm election.
Bush's response to the gas crisis has been to warn Americans to expect a tough summer, vow that price gouging will not be tolerated and try to promote energy alternatives that will take years to get to consumers.