BAGHDAD, Iraq - Shiite politicians agreed Friday to nominate Jawad al-Maliki as prime minister, replacing the incumbent in a bid to clear the way for a long-delayed new government, two Shiite officials said.
Al-Maliki is a top ally of outgoing Prime Minister Ibrahim al-Jaafari, whose nomination had sparked sharp opposition from Sunni Arab and Kurdish leaders and caused a monthslong deadlock.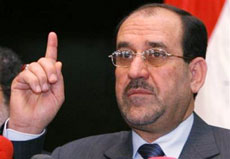 Jawad al-Maliki, spokesman for the Dawa party speaks to journalists Thursday April 20, 2006, in Baghdad, Iraq. [AP]

Leaders of the seven parties that make up the Shiite alliance agreed on al-Maliki's nomination in a meeting Friday evening, said Jalal Eddin al-Sagheer, a member of the Supreme Council for the Islamic Revolution in Iraq, the largest party in the alliance.

Al-Maliki won the nomination with agreement from six of the parties, said another SCIRI official, Ridha Jawad Taqi. The seventh party, Fadhila, had presented its own candidate, but only five of seven parties were needed to win a "consensus" agreement on a nominee.

The Shiite nominee is to be presented to a session of parliament on Saturday.

If Sunni Arab and Kurdish parties accept al-Maliki ¡ª and some have indicated they will ¡ª it could be a breakthrough in the two-month impasse that has prevented the forming of a national unity government to tackle the task of stabilizing Iraq amid increasing sectarian violence.

Al-Maliki is one of the top figures in al-Jaafari's Dawa party and has often appeared as his spokesman. Still, little is known about him, since he fled Iraq in the 1980s, settling in Syria and working in Dawa's political office. He returned to Iraq after the fall of Saddam Hussein in 2003.

SCIRI and other parties in the alliance had initially expressed opposition to al-Maliki because it feared he would be unacceptable to Sunni Arabs.

Al-Maliki was a top official in the commission in charge of purging members of Saddam's ousted Baath Party from the military and government. Sunnis ¡ª who made up the backbone of the Baath Party ¡ª consider the commission a means of squeezing them out of influence in post-Saddam Iraq.

But the Dawa party warned of further problems within the alliance if al-Maliki were rejected after Dawa leader al-Jaafari was forced to give up the nomination.

Sunnis appeared willing to take al-Maliki, after fiercely opposing a second term for al-Jaafari, who bowed out Thursday.

"If anyone is nominated except al-Jaafari, we won't put any obstacles in his way. He will receive our support," Adnan al-Dulaimi, head of the main Sunni Arab coalition in parliament, told The Associated Press.

Mahmoud Othman, a Kurdish lawmaker, said the Kurdish parties had no opposition to al-Maliki.

The Shiites are the biggest bloc in parliament but lack the strength to govern without Sunni and Kurdish partners. As the biggest bloc, the Shiites get first crack at the prime minister's job.

Al-Jaafari had held out for weeks against increasing pressure on him to step aside.

Sunni and Kurdish politicians blamed the rise of sectarian tensions on al-Jaafari for failing to rein in Shiite militias and Interior Ministry commandoes, accused by the Sunnis of harboring death squads. Those parties refused to join any government headed by al-Jaafari.

He stepped down after Iraq's most powerful Shiite cleric, Grand Ayatollah Ali al-Sistani, sent word that he should go, according to some lawmakers.

U.S officials are insisting that the Iraqis move quickly to form a new government to begin the task of confronting sectarian violence and armed insurgency. The U.S. hopes such a government will curb Iraq's slide toward anarchy and enable the U.S. to begin bringing home its 133,000 troops.