South Korea and Japan made "no progress at all" Friday during initial high-level negotiations aimed at defusing mounting tensions over Tokyo's plan to send survey ships into waters claimed by both countries, a South Korean official said.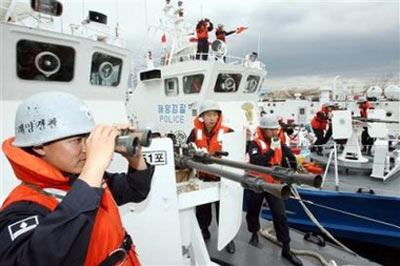 Members of South Korean Coast Guard participate in a drill at a port in Pohang , South Korea, Wednesday, April 19, 2006, amid escalating territorial dispute over Dokdo islets between South Korean and Japan. South Korea's Foreign Ministry warned Thursday there is the possibility of a physical clash with Japan over Tokyo's plan to survey waters claimed by both countries. [AP]
"There has been no progress at all so far," South Korean Vice Foreign Minister Yu Myung-hwan said after a 90-minute meeting with Japanese Undersecretary for Foreign Affairs Shotaro Yachi, who made an emergency trip to the South Korean capital.
"We talked about our position. Japan talked about its position," Yu said. "We need to talk more. The positions of the two sides are so different ... that we have to talk frankly."
Yachi described the atmosphere at the meeting as "severe," according to Japan's Kyodo News agency.
The diplomats broke after their brief initial meeting for more talks over dinner and may meet again on Saturday, South Korea's Foreign Ministry said.
Japan has reportedly agreed to delay the survey while the talks continue. Its coast guard survey ships had been scheduled to start the study as early as Thursday, but have waited off the coast as tensions flared.