South Korea's president has accused Japan of claiming Korean territory that Tokyo took long ago in a colonial war, as a sovereignty row escalated over a group of desolate islands.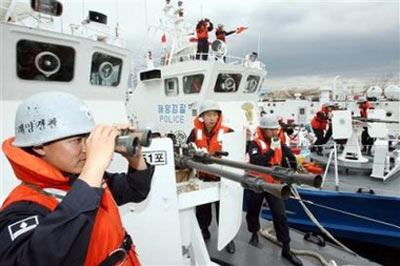 Members of South Korean Coast Guard participate in a drill at a port in Pohang , South Korea, Wednesday, April 19, 2006, amid escalating territorial dispute over Dokdo islets between South Korean and Japan. South Korea's Foreign Ministry warned Thursday there is the possibility of a physical clash with Japan over Tokyo's plan to survey waters claimed by both countries. [AP]
"There are some people claiming territorial rights to former colonies that were once acquired through a war of aggression," President Roh Moo-hyun said in prepared remarks for a speech to a breakfast prayer meeting of Christian leaders in Seoul.
South Korea still nurses angry memories of Japan's harsh 1910-1945 colonisation of the Korean Peninsula.
On Thursday, it called in Japan's envoy to try to avert a high-seas showdown.
The step comes a day after South Korea ordered a show of force over the islands, placing its coast guard on high alert, sending 20 vessels to the disputed area and telling Japan to stay away.
South Korea has warned of "stern measures" if Japan pushes ahead with the plan to send survey ships near the islands called Tokto in Korean and Takeshima in Japanese.
Japan has told South Korea it would not send survey ships near the islands if Seoul dropped a plan to ask that Korean names be used for seabeds near the islands ahead of a June international maritime conference, a Japanese government source in Tokyo said.
In Seoul, South Korean Foreign Minister Ban Ki-moon called in Tokyo's ambassador, Shotaro Oshima, and said the government was prepared to hold talks if Japan scrapped the survey plan.
"There are talks ongoing between the capitals to resolve the issue," a South Korean official said by telephone.
Ban said he told Oshima neither side would benefit from the standoff and it must be resolved diplomatically.
"I said (to Oshima) to immediately withdraw. Immediately withdraw the plan and resolve the issue diplomatically," he told pool reporters.
The desolate islands are about the same distance from the mainlands of both countries and are controlled by South Korea, which has a police presence there.
They sit astride rich fishing grounds. South Korea's state gas firm says the islands lie above gas hydrate deposits that could be worth billions of dollars.
But although economics may be a factor in the dispute, Seoul is also deeply motivated by rancour over Japan's harsh colonial rule over the peninsula in the first half of last century.
The territorial dispute has sparked a nationalistic sentiment in South Korea, with several leading dailies saying Japan's actions were a slap in the face.
"Each citizen must make it clear that they are willing to safeguard the Tokto islets and repel Japan's stealthy invasion," the major daily Chosun Ilbo wrote in an editorial.
Japan has called for calm over the survey but said it was making preparations to go through with the plan, which it said was justified under international law.