A Palestinian suicide bomber struck a packed fast-food restaurant during Passover on Monday, killing nine people and wounding dozens in the deadliest bombing in more than a year.
In a sharp departure from the previous Palestinian government's condemnations of bombings, the Hamas-led administration defended the attack as a legitimate response to Israeli "aggression."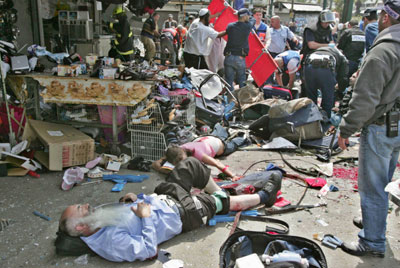 Wounded Israeli civilians get first aid, following a suicide attack at Tel Aviv's old central bus station on April 17, 2006. A suspected Palestinian suicide bomber killed nine people at a sandwich stand in the Israeli city of Tel Aviv on Monday and wounded dozens more, medics said. [Reuters]
The bloodshed and the hard-line stance could set the stage for harsh Israeli reprisals and endanger Hamas' efforts to secure desperately needed international aid and acceptance.
Israel said it held Hamas responsible for the attack in Tel Aviv even though a separate group, Islamic Jihad, claimed responsibility. Islamic Jihad has close ties to Israel's archenemy, Iran.
"Hamas' constant preaching for the destruction of Israel serves as a catalyst for these attacks," said David Baker, an Israeli government spokesman.
Israel's security chiefs met Monday and were expected to recommend stepped-up operations against Islamic Jihad, security officials said. Israeli officials were to decide on a response Tuesday.
In an initial response, Israeli aircraft attacked an empty metal workshop in Gaza City early Tuesday, causing no injuries. The army said the workshop was used by the Popular Resistance Committee's militant group to manufacture homemade rockets to launch at Israel.
The Palestinian suicide attack took place just two hours before Israel's newly elected parliament was sworn into office, and Prime Minister-designate Ehud Olmert said Israel would react with appropriate means.
The moderate Palestinian president, Mahmoud Abbas of the rival Fatah party, condemned the suicide bombing and said he had ordered Palestinian security forces to prevent future attacks.
"These kinds of attacks harm the Palestinian interest, and we as an authority and government must move to stop it," Abbas said. "We will not stop pursuing anyone who carries out such attacks."
But Abbas is currently in a power struggle with Hamas, and it remains unclear who is ultimately in charge of the Palestinians' security forces.