Queen Elizabeth still going strong at 80
(Reuters)
Updated: 2006-04-17 16:14
LONDON - Britain's Queen Elizabeth turns 80 on Friday with her popularity intact, abdication firmly ruled out and her eldest son Charles facing yet another decade as heir in waiting.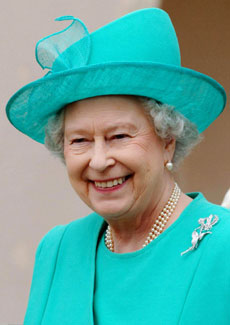 Britain's Queen Elizabeth II leaves after attending the traditional Easter Sunday Service at St George's Chapel in Windsor Castle, April 16, 2006. [Reuters]

The queen, crowned nearly 53 years ago, has made clear that she regards her position as "a job for life", and even ardent Republicans concede that abolition of the monarchy is a lost cause while a robustly healthy Elizabeth is on the throne.

The Dutch royals' abdication model does not appeal to the British queen, who also has vivid memories of her father being pushed onto the throne in an abdication crisis that shook the House of Windsor to the core.

Her popularity has revived after a tumultuous decade of scandals, divorce and tragedy for Britain's most famous dysfunctional family. Polls show that only one in 10 of her subjects want Elizabeth to step down, and courtiers dismiss all talk of Charles, 57, acting as a "shadow king".

"There is no plan for the prince to take over more duties from the queen. Abdication is absolutely not an option," a senior royal adviser told Reuters.

Republicans accept defeat for now. "We will not have a republic while the queen is still alive," said Professor Stephen Haseler, chairman of Republic, the campaign for an elected head of state.

"Enough people in Britain feel the queen has done quite a good job. The debate about the monarchy doesn't get serious until the queen goes," he told Reuters.

While keeping up a busy programme of official visits across Britain, the queen is also firmly committed to the Commonwealth of former British colonies, and has travelled more widely than any previous monarch to promote friendly ties with them.

The monarchy's popularity plummeted in 1997 after the death in a Paris car crash of Charles's ex-wife Princess Diana, which provoked an outpouring of public grief that many Britons felt the royal family should openly share.

Royal biographer Robert Lacey said Elizabeth was quite right to keep Diana's grieving sons, William and Harry, away from the public gaze for the first few days after Diana's death.

"Staying with her grandsons, protecting them from the world, brought her popularity to a record low. That now seems to have been vindicated as the correct human priority to pursue," he said.

TENSION WITH CHARLES

Tension between Elizabeth and Charles over his tortuous love life has also eased since he finally married Camilla, the love of his life, last year after a 35-year affair. Diana always blamed Camilla for the breakup of her marriage.

The queen, recalling the 1936 abdication crisis that brought heartache to her parents, gave an intriguing glimpse in a 1990s television documentary into how she sees her role.

"It's a question of maturing into something one's got used to doing and accepting the fact that it's your fate, because I think continuity is very important. It is a job for life," she said.

Her frail and unprepared father had to take over the throne as George VI when his elder brother, Edward VIII, abdicated to marry American divorcee Wallis Simpson.
Elizabeth is also said to be no fan of the Dutch system under which queens have abdicated in favour of their daughters.

"The Queen is contemptuous of monarchies that do pick and choose and do retire," said royal biographer Penny Junor. "One inherits after the other dies -- that's it."

Elizabeth's widowed mother died at the age of 101 and Junor concluded "The queen is fit as a flea, totally in command of her senses. She enjoys it and this is what she signed up for."