Playboy magazine may no longer rate on the sexual cutting edge in some places, but the first edition in Indonesia, the world's most populous Muslim nation, caused a stir Friday.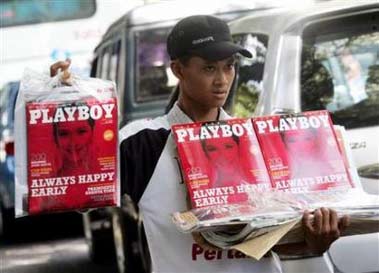 A street vendor sells first copies of a local version of Playboy magazine in Jakarta, Indonesia April 7, 2006. [Reuters]
Although the pictures inside showed less skin than US issues 50 years ago, copies were being passed from desk to desk in Jakarta offices, high demand was reported, and newspapers and broadcasters dwelt at length on the Indonesian issue.
A leader of one militant Islamic group threatened to use force, if necessary, to get the magazine withdrawn.
Like the iconic original, the Indonesian Playboy included a serious interview, in-depth articles and color pictures of women, including a fold-out. But no nipples were exposed in the photos, let alone anything approaching full nudity.
"I didn't see any surprising thing in this magazine. It depends on how people interpret it. For me, no problem," Alex, a white-collar worker who did not want to give his full name, told Reuters Television.
A 40-year-old housewife, Maya, disapproved. "Surely it is against the new anti-pornography law," she said.
Condemnation also came from Chamammah Soeratno, head of the women's wing of major Muslim moderate group Muhammadiyah.
"Everyone knows it's a pornographic magazine. The first edition may not have any nudity. That's a very clever move by the publishers," she told Reuters.
Indonesia's parliament is debating a law to significantly tighten control of media as well as public behavior in an effort to reduce what its proponents see as pornography.
Threat to Editors
Indonesia has many magazines on news stands that go further than the new Playboy in the sexual content of their articles and at least as far in their pictures.
In fact, magazine and newspaper agent Azis, 41, said Playboy was not different enough from an existing upscale Indonesian men's magazine, Matra.
But even months ago the Playboy image and its Western origin had sparked protests at the mere news of plans for the Indonesian edition, despite promises of a tame version.
Around 85 percent of Indonesia's 220 million people follow Islam. Although most are moderates, there is a growing tendency toward showing Islamic identity and conservative attitudes.