Tornadoes shredded homes to their foundations, hail tore holes in the rooftops and high winds toppled even freight cars as a line of violent storms cut zigzagging paths of destruction that killed at least 27 people across the nation's midsection.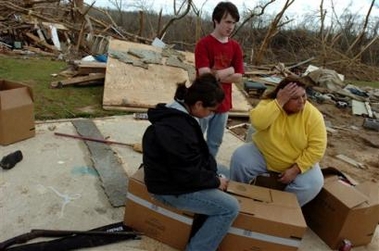 From left, Heather Williams, 21, Anthony Sweat, 15, and their mother Charlotte Sweat sit on the slab that was once their two story home on Monday, April 3, 2006 in Millsfield, Tenn. A tornado ripped through the area Sunday night leaving at least three residents dead. The deadly storm has been blamed for 23 deaths in Tennessee. [AP]
The worst damage from Sunday night's storms occurred along a 25-mile swath of rural western Tennessee, where 23 of the deaths occurred and state troopers using dogs searched for more victims amid the rubble of brick buildings and toppled trailers.
"Most of the houses, you can't count. They're just gone," said Roy Childress, who was part of a church relief crew that was delivering food and water to survivors Monday.
The dead included an infant and the grandparents who had been babysitting him. A young couple and their two sons, ages 5 and 3, were also killed, their bodies found 800 yards from their house.
"It basically took my life away. I don't really care if I see daylight tomorrow," said Larry Taylor, the boys' grandfather and the only funeral director in rural Bradford. He was planning to bury the family in two separate caskets, with each child alongside one of his parents.
"I'd give everything I had for that not to have happened,' he said through tears. "Those little boys were my life."
Severe storms also struck parts of Iowa, Kentucky, Arkansas, Missouri, Ohio, Illinois and Indiana. Strong winds were blamed for at least three deaths in Missouri. A clothing store collapsed in southern Illinois, killing one man.
In Arkansas, Logan Hawley tried to escape by driving with a group of other people to a tornado shelter.
"We couldn't see anything," Hawley said. "It was just brown in front of us." The car crashed at an intersection, so the six people inside had no choice but to sit terrified as the tornado passed.
"I just closed by eyes and hoped it was a dream," he said.
The brunt of the storms, some packing softball-sized hail, blasted an area between the small town of Newbern, about 80 miles northeast of Memphis, to Bradford. Twenty-three people were killed, including an infant and the grandparents who had been babysitting him. A family of four was also killed.
Officials estimated 1,200 buildings were damaged in Gibson County, where eight people were killed and 17 others hospitalized in critical condition, according to the Tennessee Emergency Management Agency.
Gov. Phil Bredesen asked President Bush to declare Dyer and Gibson counties federal disaster areas.
"Our first priority is helping those impacted to get back on their feet quickly and to bring back a sense of normalcy at a time when they need it most," said Bredesen, who planned to visit the area Tuesday.
The Tennessee Valley Authority estimated that more than 15,000 customers were without power at midday Monday.
The storms developed after a cold front approaching from the West slammed into a mass of warm, humid air, said Memphis meteorologist Jody Aaron. A tornado in Dyer County apparently had winds of 158 to 206 mph.
The weather service's Storm Prediction Center in Norman, Okla., said it had preliminary reports of 63 tornadoes.
About a half-dozen tornadoes struck Arkansas and one destroyed nearly half the town of Marmaduke, according to a fire department official. Authorities cordoned off the town after a gas line ruptured, and three people remained unaccounted for Monday.
"Almost every single structure in Marmaduke has minor to moderate damage but almost 50 percent of it is totally destroyed," acting fire commander Chris Franks said. Much of the town also was damaged by a tornado in 1997.
Brick shells were all that remained at some houses, while corrugated metal used as roofing stood draped around several trees. The storm rolled railroad cars onto their sides, several feet away from the nearest track.
Hail 4 inches in diameter slammed right through the roof of one mobile home in Arkansas, weather service meteorologist Newton Skiles said.
About 30 miles from Newbern, a tornado caused extensive damage to the southeast Missouri city of Caruthersville, although Mayor Diane Sayre said there were no known deaths in the city of 6,700.
In southern Illinois, a man died when a clothing store collapsed in the St. Louis suburb of Fairview Heights. An off-duty police officer survived for nearly an hour in the store's debris before he was pulled to safety.
"I'm so blessed," Doug Young said Monday from his hospital bed in Belleville, where he had a bruised chest and 10 stitches in a knee. "I was thankful to God that he delivered my prayers."
In downtown Indianapolis, tornado-force winds shattered dozens of windows in an high-rise office building. The storm hit just after thousands of people had left a free outdoor concert by John Mellencamp held as part of the NCAA men's Final Four basketball tournament.