The leader of Japan's main opposition Democratic Party said on Friday he would resign to take responsibility for a botched attempt to discredit Prime Minister Junichiro Koizumi's ruling party.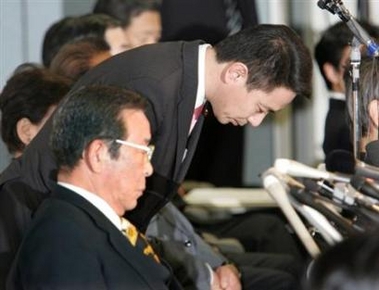 Japan's main opposition Democratic Party leader Seiji Maehara bows at the party headquarters in Tokyo, February 28, 2006. Maehara plans to step down, public broadcaster NHK and other media reported on Friday. [Reuters]
The departure of Seiji Maehara, along with the rest of the party leadership, is likely to be a big blow to the Democrats, who took a pounding from Koizumi's Liberal Democratic Party (LDP) in a general election last September.
The party's fortunes ebbed further earlier this year after lawmaker Hisayasu Nagata failed to prove charges he made in parliament of shady links between the LDP and Takafumi Horie, former chief executive of scandal-hit Internet firm Livedoor Co.
"I will resign as party leader to take full responsibility for troubling the public and party supporters," Maehara, 43, told party lawmakers in a meeting later shown on television.
Nagata, who was suspended from the party last month, is set to resign his seat as a lawmaker, media reports said.
Nagata had claimed that Horie had ordered company officials in an e-mail to pay 30 million yen ($255,700) in consulting fees to the son of LDP Secretary General Tsutomu Takebe.
Maehara played up the accusations, and the Democrats' eventual admission that the e-mail was false turned what had seemed a golden political opportunity into a fiasco.
"The Democrats were really beaten by the LDP last fall, and now they'll just lose more ground to them since they've lost so much credibility over this," said independent political analyst Harumi Arima.
In a poll published earlier this week, just 1 percent of respondents cited Maehara as their choice for prime minister when Koizumi steps down in September.
Even among Democratic Party supporters, a mere 2 percent backed their party chief for the nation's top job, the poll by Nihon Keizai financial daily showed.
Political analysts said that while Maehara's resignation would give the party an opportunity to repair its battered credibility, recovery would be difficult, particularly with an election for parliament's Upper House due next year.
"Maehara really should have quit earlier when everything first blew up -- that would have obtained some sympathy for the party," said independent political commentator Mineaki Yamamoto.
"As it is, though, his dragging things out has made the whole situation worse."
The hawkish Maehara took charge of the party last September after an LDP election landslide that saw the Democrats lose 62 seats and prompted the resignation of his predecessor.
The LDP won 295 seats in the 480-seat lower house. Its junior coalition partner New Komeito took 31 and the Democrats 113.
After narrowly edging former party leader Naoto Kan to take the leadership post, Maehara vowed to convince voters that his party was a viable alternative to the long-ruling LDP.
The LDP, which backed Horie as an independent reform candidate in the election, came under fire after the entrepreneur was arrested in January and indicted on charges of breaking securities laws.
($1=117.33 yen)