A US federal judge sentenced a U.S. citizen convicted of plotting to assassinate President George W. Bush and conspiring with al Qaeda to 30 years in prison on Wednesday.
In November, Abu Ali, now 25, was found guilty of all charges in a nine-count indictment, including conspiracy to assassinate Bush, conspiring to support al Qaeda and conspiracy to hijack aircraft. His lawyers are appealing the ruling.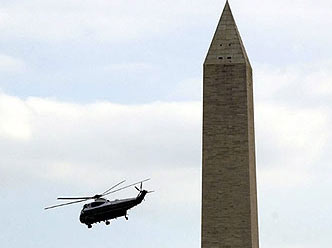 US Marine One carrying US President George W. Bush flies in front of the Washington Monument after take off from the South Lawn of the White House in Washington, DC. [AFP]
"The court is sentencing you to 360 months, which is 30 years in prison," said U.S. District Judge Gerald Bruce Lee.
The sentence will be followed by 30 years of supervised release, Lee said.
Prosecutors had sought a life sentence for Abu Ali, who faced a minimum sentence of 20 years behind bars. But the judge said the nature of the offense and Abu Ali's personal history justified a sentence of less than life in jail.
Lee said that while the crimes were serious, Abu Ali had not committed any acts of violence, and no weapons were ever found in his possession. Other mitigating factors included the absence of a prior criminal record, his youth and his otherwise strong personal record, the judge said.
In arguing for life imprisonment, prosecuting attorney David Laufman said, "It is simply chilling to contemplate that this defendant might ever walk the streets of this country again."
Laufman said Abu Ali was unrepentant, remorseless and dangerous. "Al Qaeda could not have found a more ideal operative to carry out terrorist attacks inside the United States," he said.
Abu Ali appeared in court wearing a dark green prison jumpsuit with the word "PRISONER" in white letters on the back, his black hair neatly combed and his beard trimmed. He declined the judge's offer to make a statement before his sentence was read out.
His mother, father, a sister and a brother sat impassively in the courtroom during sentencing, flanked by several rows of friends and supporters.
Abu Ali, who lived in the Washington suburb of Falls Church, Virginia, was arrested in June 2003 while studying at a Saudi university and was held in Saudi custody for 20 months before returning to the United States after being indicted.
In Saudi Arabia, he signed confessions and made statements admitting to the plot against Bush and to having ties to an al Qaeda cell.
But when the case came to court, Abu Ali pleaded not guilty to the charges, saying he made up the confessions after being tortured by Saudi police.
"He was tortured and that is the only reason he made those statements," defense attorney Khurrum Wahid told reporters after Wednesday's sentencing. "We hope to be victorious on appeal."
Deputy Attorney General Paul McNulty called the sentence "strong punishment for the defendant's egregious crimes. It is important that Abu Ali remain behind bars until he is no longer a threat to the American people."