JERUSALEM - Interim Prime Minister Ehud Olmert claimed victory on Wednesday in Israel's election, saying he would pursue a plan to give up parts of the West Bank and impose a border on the Palestinians if peacemaking stays frozen.
"Today Israeli democracy has spoken clearly. Israel wants Kadima," Olmert said in a speech at the centrist party's election headquarters after exit polls in Tuesday's vote gave it 29-32 seats in the 120-member parliament.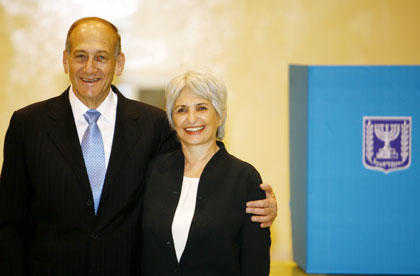 Israeli interim Prime Minister Ehud Olmert (L) embraces his wife Aliza after voting in Jerusalem on March 28, 2006. Israelis began voting in an election on Tuesday that interim Prime Minister Ehud Olmert has called a referendum on his plan to uproot remote settlements in the West Bank if peacemaking with the Palestinians stays frozen. [Reuters]


The figures were less than expected but still a first-place finish putting Kadima in position to form a governing coalition.

In the absence of progress toward peace, Olmert aims to set Israel's final frontier by 2010 by removing isolated settlements in the occupied West Bank while expanding bigger blocs there.

Palestinians say such go-it-alone moves, sweeping measures that would uproot tens of thousands of settlers while tracing a border along a fortified barrier Israel is building inside the West Bank, would deny them a viable state.

Olmert, appealing in his speech to Palestinian President Mahmoud Abbas, said Jews had aspired for thousands of years to create a homeland throughout the Land of Israel, biblical territory that includes the West Bank.

"But acknowledging reality and circumstances, we are ready to compromise, to give up parts of the beloved Land of Israel ... and evacuate, with great pain, Jews living there, to create the conditions that will enable you to fulfill your dream and live alongside us," Olmert said.

If the Palestinians did not move toward peace, he said, "Israel will take its destiny in hand" and set permanent borders after lobbying the United States and other countries for support.

The exit polls forecast center-left Labour, a likely partner for the recently formed Kadima, would receive 20-22 seats and the far-right Yisrael Beitenu party 13-14.

Near-final results should be available early on Wednesday.

NETANYAHU SETBACK

In a sharp setback for former Prime Minister Benjamin Netanyahu, his right-wing Likud was projected to get only about 12 seats.

Netanyahu pledged to stay on as Likud chief, a post he regained only three months ago after then-Prime Minister Ariel Sharon quit the party amid an internal revolt over Israel's Gaza pullout. Sharon founded Kadima before suffering a stroke in January that sent him into a coma.

Olmert's unilateral approach appeals to many Israelis worn down by a five-year-old Palestinian uprising and concerned by the rise to power of Hamas in the West Bank and the Gaza Strip after the Islamist militant group won elections in January.

But Kadima's projected showing, weaker than the 44 seats opinion polls had once predicted it would win, signaled that Olmert, a veteran politician short on charisma, could have trouble sustaining support for his dramatic plan.

Kadima was also expected to seek a coalition with a clutch of small parties ranging from ultra-Orthodox Jewish factions to a pensioners' rights group.

"But I don't think we'll see a coalition form quickly. Bargaining will be difficult," predicted Ephraim Inbar, director of the Begin-Sadat Center for Strategic Studies at Israel's Bar-Ilan University.

HAMAS GOVERNMENT

Israelis voted on the day the Palestinian parliament approved a government formed by Hamas, a group committed by its charter to Israel's destruction.

"While the election is being held in the Israeli entity, the flags of the Hamas government are being raised," Hamas's Prime Minister-designate Ismail Haniyeh told a rally in Gaza.

Olmert has ruled out any dealings with Hamas until the group recognizes Israel, disarms and accepts interim peace deals.

Some 60,000 West Bank settlers could be affected by Olmert's plan, far more than the 8,500 removed from Gaza. Around 240,000 Israelis live among 2.4 million Palestinians in the West Bank, territory Israel captured in the 1967 Middle East war.

The trauma for settlers of any withdrawal from land they see as a biblical birthright could dwarf that of last year's Gaza withdrawal which Sharon championed in a reversal of policy.

"What we have seen is a defeat for the people of Israel," said Miriam Goldfisher, 47, a West Bank settler.

The World Court has ruled that all of the 145 settlements Israel has built on occupied territory are illegal. Israel disputes this.

Israeli right-wingers, who appeared to have crowned a new leader in Yisrael Beitenu's Moldovan-born Avigdor Lieberman, a settler and former Netanyahu aide, say removing more settlements would reward and encourage Palestinian violence.

President Moshe Katsav is expected to assign the task of putting together a government after consultations with parties on Sunday. Usually, the job goes to the leader of the leading party in the elections, who has up to 42 days to complete it.