Beijinger Zhang Haoran visited Jeju Island of South Korea in May and Bali Island of Indonesia in August and now he is planning for the upcoming Chinese New Year holiday in early February.
He is tempted by Acropolis in Athens and the Aegean Sea as well as the splendid white architecture in Santorini in Greece, but also the lunar-like landscapes in Kapadokya and balloon trips over the Capadoccian valley in Turkey.
"It's hard to make a decision. I may choose one this time and the other later next year," he adds.
Zhang is a part of the rapidly soaring group of Chinese who are traveling abroad more frequently and independently.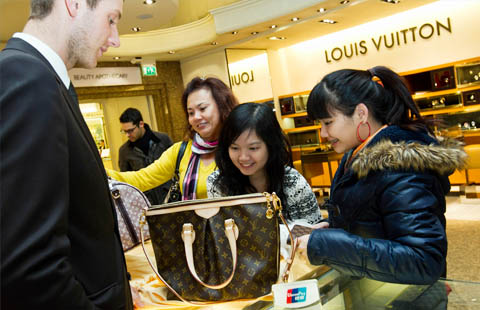 Since the turn of the century, there has been over an eightfold increase in the number of overseas trips made by Chinese travelers from 10 million who traveled to other countries in 2000.
In 2012, China became the top tourist source market in the world and the outbound Chinese travelers have grown at double-digit percentage rates ever since, according to the United Nations World Tourism Organization.
China's outbound tourists reached 107 million in 2014 and the number is expected to cross 120 million in 2015, up 16 percent over the previous year, according to the China Tourism Academy, a research institution under the China National Tourism Administration.
"Undoubtedly, 2015 will mark the fourth consecutive year of China as the world's top tourism source market," says Jiang Yiyi, director of the China Tourism Academy's International Tourism Development Institute.
Still, according to a Bank of America Merrill Lynch forecast, outbound Chinese travelers could number around 174 million by 2019, spending about $264 billion annually. That's roughly equivalent to the GDP of a developed country like Singapore.
Chinese overseas travelers make up a sizable group of consumers, acclaimed as the world's largest, most favorable spenders. Chinese spent $164.8 billion overseas in 2014-a fourfold increase over 2008, and about 88 percent was on shopping, reports the China Tourism Academy.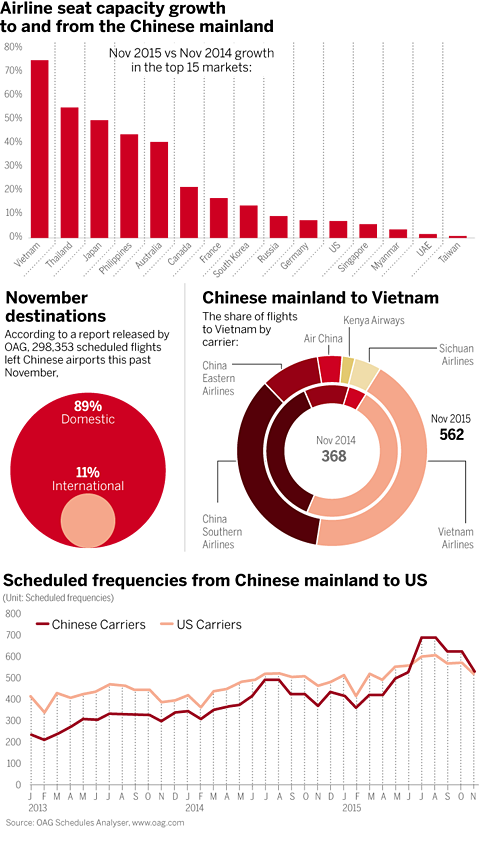 About 400,000 Chinese spent around $833.7 million in Japan during the last National Day Golden Week. They spent about $8.9 billion in Japan during the first nine months in 2015, up 165 percent year-on-year, Japanese media reported.
About four million Chinese arrived in Thailand in the first six months of 2015, a 110 percent increase over the same period in 2014, the country's tourism authority's data show. Spending surged 140 percent to $53.5 million.
But the biggest spending surprise came from Australia, where Chinese spent $5.6 billion in the 12 months to September 2015. The number is so huge that it even exceeds the spending by the British, Americans and Canadians combined.
VisitBritain, the official tourism board of the United Kingdom, expects Chinese travelers to be spending more than $1.47 billion a year in the country by 2020.
As more Chinese names make it onto the global rich list, luxury tourism packages are proving more popular.
A Hurun/International Luxury Travel Market Asia report released in May 2015 says half of all super-rich travelers flew business class in 2014, compared to one-third the previous year.
Chinese luxury travelers have grown more accustomed to good service and well-planned itineraries, said Steve Spivak, vice-president of global sales for Tauck, the US-based tour organizer.
"Itineraries that offer rich, exotic experiences are now popular with super-rich travelers, such as our Amazon River cruise or an expedition to a Kenyan national park."
Utour's publicity manager Li Mengran adds that tours to the south and north poles led by scientists and accompanied by professional photographers are also best-sellers.
With the outbound travelers' rising numbers, air links and flight capacity have expanded accordingly.
Data from OAG, which compiles air travel intelligence, show 298,353 scheduled domestic and international flights left Chinese airports in November, with capacity on international flights up 20 percent year-on-year.
South Korea and Japan lead the way in terms of available capacity, with Vietnam the fastest-growing market.
The figures highlight strong growth in several smaller markets, as Chinese and foreign carriers compete to serve outbound Chinese travelers.
Flights to and from countries such as Afghanistan, Belarus, Czech Republic and Fiji were launched in 2015, while capacity on flights to countries like Iraq, Iran, Pakistan and Turkmenistan grew in excess of 20 percent in the first 11 months.