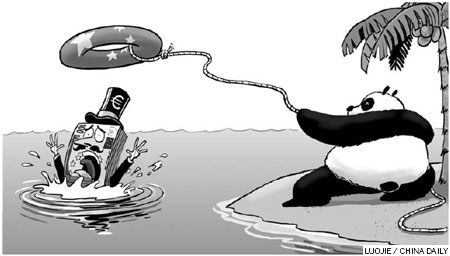 Chinese Vice-Premier Li Keqiang's visit to Europe from Jan 4 to 12 is important for several reasons. First, it demonstrates China's commitment to the European Union (EU), its largest trading partner. In 2009, China-EU trade reached about 300 billion, and China's exports to the EU accounted for almost 20 percent of its total. It is now seeking new investment opportunities across the EU.
Second, it provides an opportunity for a fresh start to EU-China relations that passed through a difficult period in the recent past. At the last EU-China summit in October, there was no progress on key Chinese demands for the EU to lift the arms embargo and grant it market economy status. Nor was there a meeting of minds on trade and foreign policy issues.
As the largest market for its exports, China has an enormous stake in the stability and prosperity of the EU. The debt crisis that has plagued Europe and affected the euro for most of the past 12 months has forced governments in EU member countries to announce strict austerity measures. But the governments find it difficult to implement these measures, mostly economic cuts, because of widespread protests from Greece and Spain to Ireland and Italy.
The financial situation remains fragile as several countries still have very high debt ratios, which have raised the cost of borrowing. At a meeting in December, EU leaders agreed to introduce a permanent stabilization mechanism for the euro as an amendment to the Lisbon Treaty. This reflected the leaders' political commitment to ensuring the stability of the euro. It remains to be seen, however, how markets will react if a financial crisis breaks out in one or two more of the EU countries.
The EU's external relations have been influenced by the budget cuts, too, and the rise in the number of anti-dumping cases against China is a sign of the rising fear of unemployment in Europe. This is also reflected in recent opinion polls, which show more than 50 percent Europeans are concerned about the impact of Chinese trade policy on jobs.
On its part, China has already shows its willingness to help EU countries emerge out of their financial difficulties. After Chinese leaders made this commitment to Greece and Portugal, Vice-Premier Li wrote in a commentary in a Spanish newspaper that China would continue to buy Spain's treasury debt.
The EU is bogged down in negotiations with China over a new strategic agreement, with trade issues acting as the biggest stumbling block. Brussels says Beijing is not fulfilling World Trade Organization commitments on protection of intellectual property rights and criticizes China for creating numerous non-tariff barriers that have made it difficult for European companies to enter the Chinese market. China accuses the EU of being too ready to resort to anti-dumping measures. At a stormy summit last October, the two sides disagreed not only on the arms embargo and market economy status, but also on the Korea Peninsula, Iran, Africa and human rights issues.
December, however, saw a useful EU-China high-level dialogue, which discussed economic and trade disputes. Catherine Ashton, EU foreign policy chief, recognized the importance of improving EU-China relations in a report presented to the December summit. She said the continued existence of the arms embargo was "a major impediment for developing stronger EU-China cooperation on foreign policy and security matters", adding that EU lectures on democracy and human rights were unlikely to be well received in Beijing.
New EU Ambassador Markus Ederer has arrived in Beijing. He told the European Parliament last month that he was confident that EU-China relations would improve steadily if both sides made greater efforts to understand each other.
Li Keqiang's visit to the EU thus comes at an opportune moment, a time when both sides are reassessing their domestic and external situations. If the EU does not recover from its economic malaise then there could be more protectionism and more anti-dumping cases. But hopeful, though uneven, signs of renewed economic growth can already be seen in Europe. The Organization for Economic Cooperation and Development has forecast a 2.3 percent growth for 2011, better than the 2010.
Perhaps the greatest contribution of Li's visit to EU-China relations will be the improvement in mutual understanding. For too long, the EU and China have talked past each other. High-level visits such as the one by Li, during which he will meet with Spanish Prime Minister Jose Luis Rodriguez Zapatero, German Chancellor Angela Merkel and British Prime Minister David Cameron, can only lead to greater understanding. This is a key element of improved EU-China relations.
The author is a senior fellow at the Hertie School of Governance in Berlin.