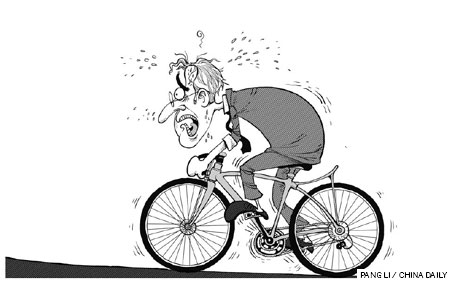 EU should clear misconceptions about China's investment environment and upgrade bilateral economic relations
The two-day China-European Union economic summit in Hamburg, Germany's biggest port city, focused on how to promote sustainable economic growth in the post-global financial crisis era, strengthen cooperation in trade and economics, and develop a green and low-carbon economy. The summit that concluded Thursday (Friday Beijing time) is expected to consolidate trade and economic relations between China and the EU.
The 12th China-EU summit held in Nanjing, capital of Jiangsu province, on Nov 30 last year, lifted bilateral relations from the shadows of the disruptions to the Beijing 2008 Olympic Games torch relay in Europe and French President Nicolas Sarkozy's meeting with the Dalai Lama.
Frequent visits have been exchanged between leaders of the two sides since the Nanjing meeting. China has made large-scale purchases from the EU, too, which have helped some of the EU member states mitigate their debt crises.
Consensus between the two sides on promoting sustainable economic growth, strengthening trade and economic cooperation, and developing a green and low-carbon economy - and its implementation - will boost China-EU relations. Over the past few decades, bilateral ties have improved by leaps and bounds, graduating from a constructive partnership to an all-round partnership to the current higher-level, all-round strategic partnership.
On the political front, the two sides have established an annual meeting mechanism between their leaders and more than 17 political consultation channels. In the economic field, bilateral trade volume has grown 176 times in the past 35 years. The EU has been China's largest trading partner for six consecutive years, and China has become the EU's second largest trading partner. Besides, the EU is China's largest source for importing technologies and fourth largest investor. Bilateral cultural exchanges and cooperation have progressed well, too.
Besides, China's rapid economic development has created a significant impact on the world political and economic landscapes. All this should make the EU realize that China's development is inseparable from the rest of the world and vice versa.
As a responsible country, China has served as an active force in maintaining world peace and promoting common development. China will unswervingly travel the road of peaceful development and pursue a mutually beneficial strategy with other countries to ensure lasting world peace and to build a harmonious international community so that all countries can enjoy prosperity.
There is no reason for the EU to see China's rapid economic development as a threat. Instead, it should see China's emergence as a rare opportunity to boost its own development.
Since China is still a developing country, its market mechanism has certain imperfections - in the field of intellectual property rights (IPR), for example. But it has taken effective measures to cleanse its market and make its enterprises more creditable and law-abiding. This has made domestic enterprises resist fake and substandard products and create a good market environment for IPR protection.
But instead of appreciating the tangible progress that China has made, the EU has criticized China's investment environment. In its latest (Sept 2) report on European companies' status in China, the EU Chamber of Commerce in China, which consists of China-based European enterprises, has called China a market with one of the harshest administrative regulations.
The report says that giving EU companies freer access to the market and creating a "fairer" environment for them will not only help China attract more European investments, but will also help it develop a more balanced economic development model. It adds that to let the EU play a bigger role in the process, China should treat European companies more fairly. In other words, the EU chamber wants China to continue treating European companies favorably.
Every country's economic development and market undergo constant changes, and China is no exception. In the early years of reform and opening-up, China did offer foreign investors "super-national treatment", mainly through tax exemptions. But that was because the country's political and economic systems then were somewhat unfavorable to foreign investment. But since 30 years of reform and opening-up have changed the conditions, China has decided to end the favorable policies from next month and create a level playing field for foreign and domestic companies.
China's economic development has entered a new stage. Its market institutions are well-developed now and foreign enterprises' operation costs have dropped substantially. And since Chinese companies have grown, too, foreign ventures are facing increasingly fierce competition in the domestic market.
The EU should not view the growing competition its companies face in China today as deterioration of the domestic investment environment. Rather than complaining about the Chinese government's decision, the EU should restructure its enterprises' investment and operations in China to cash in on the enormous economic opportunities that the country's fast development has to offer.
The author is deputy director of the Institute of European Studies, affiliated to the Chinese Academy of Social Sciences.