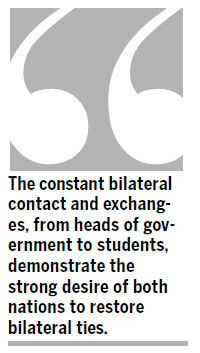 More non-governmental channels can strengthen the healthy development of relations between China and Japan
About 1,000 young Japanese will visit the Shanghai World Expo from Oct 27 to 30, following the arrival in Japan, on Oct 12, of some 400 Chinese students for a nine-day stay.
Such people-to-people exchanges between China and Japan are important for the improvement and development of bilateral ties.
The continuation of people-to-people contacts between the two neighbors may help thaw relations, which have become increasingly frosty since the illegal detention of a Chinese trawler captain near the Diaoyu Islands on Sept 7.
These exchanges are important steps in the bid to resume friendly relations after the "corridor talks" at the Asia-Europe Meeting in early October, in which Premier Wen Jiabao and Japanese Prime Minister Naoto Kan agreed that government and private exchanges will be restored.
Constant bilateral contact and exchanges, from heads of government to students, demonstrate the strong desire of both nations to restore bilateral ties.
In recent years, Sino-Japanese ties have made significant progress in terms of high-level communication, economic cooperation, cultural and people-to-people exchanges and coordination on regional and international affairs. These hard-won results should not be destroyed by such unforeseen incidents.
China and Japan have a long history of exchanges. In the Book of Later Han, it was noted that Emperor Guangwu of the Eastern Han Dynasty (AD 25-220) gave a golden seal to Wa (Japan). This is the earliest record of the establishment of formal diplomatic relations between China and Japan.
Later, Tang Dynasty (AD 618-907) culture was introduced to Japan, helping the latter improve its social system and enrich its culture.
The Tang Dynasty and the Song Dynasty (960-1279) represent the peak of Sino-Japanese relations. Both sides trusted each other in politics and benefited from economic exchanges. China's tea ceremony and Zen Buddhism were introduced to Japan at the time, and Chinese architecture, medicine, painting and printing were also highly favored by Japanese people.
China and Japan have benefited from friendly exchanges for over 2,000 years. It is only in recent times, with Japan's several invasions of China, that the traditional friendship between the two peoples has been overshadowed. Now, sharing more common interests, China and Japan are once again developing closer ties.
Against this background, it is important to develop and maintain sound bilateral relations.
While meeting with Japanese Prime Minister Naoto Kan in Toronto on June 27, President Hu Jintao pointed out that China and Japan, both important countries in Asia and the world, are close neighbors to each other and share broad common interests in regional and international affairs. To develop Sino-Japanese relations of long-term stability and friendship conforms to the fundamental interests of both countries and their peoples, and is a widespread aspiration of the international community.
China has consistently maintained that bilateral relations should be improved and developed on the basis of the principles outlined in the three important political documents between China and Japan and in the spirit of "take history as a mirror and look forward to the future".
China persists in its efforts to build friendly relations and partnerships with its neighbors. However, China will never tolerate any action, like the recent aerial inspection of the Diaoyu Islands by some Japanese lawmakers, which undermines China's territorial sovereignty.
The forthcoming visit to the Shanghai World Expo by Japanese youngsters has been widely viewed as a sign of thawing relations. However, the Japanese foreign minister's recent remarks, that China has been "extremely hysterical" over the Diaoyu Islands and his irresponsible claim that the islands are the indisputable territory of Japan, are groundless and harmful to bilateral relations. The protests by Japanese rightists have also dealt a heavy blow to the already fragile ties.
The Japanese government should make every effort to avoid further confrontation with China.
Against this backdrop, we hope exchange programs such as the Japanese youth delegation will help people of both countries to better understand each other and work for a better relationship.
The author is a current affairs commentator.