Contrary to Western claims of 'plundering resources' in Africa, China is creating more opportunities for people on the continent
The rapidly evolving China-Africa relationship has elicited different types of response from the international community, from accusations such as "China is practicing neocolonialism in Africa" and "China is plundering resources in Africa" to balanced views like "China is promoting Africa's development and creating opportunities".
Usually, two factors, time and space, are used to weigh a bilateral relationship. And compared to the ties between the West and Africa, Sino-African relationship appears deficient on both fronts.
Though China-Africa ties could be traced back to more than 2,000 years, in earnest Sino-African relations began after the establishment of the People's Republic of China in 1949. The West, however, set foot in Africa in the 15th century, colonized the entire continent, ruled over it for centuries, and left a deep and lasting impression on African politics, economy and culture.
Related readings:


 Africa pavilion heralds closer Africa-China cooperation


 S Africa urged to protect Chinese citizen's safety

 China Mobile CEO mulls buyout in Africa
In terms of space, Western - especially European - countries usually consider Africa as their "backyard". In contrast, China and Africa are thousand of miles apart and most Chinese see Africa as a remote and mysterious continent. Even Chinese scholars researching on Africa seldom get the chance to visit the continent.
Nevertheless, the bitter memory of invasions and colonial rule and their common goal of economic development in today's West-dominated world have brought China and Africa closer. Their ties are based on the principle of equality, and mutual respect and benefit. Sino-African ties have developed in three stages - from establishment and development of relations to all-round cooperation and partnership.
During the first stage, from the 1950s to the late 1970s, China supported African countries in their fight against colonialism and imperialism to gain independence. The African countries, in turn, cooperated with China and supported it in its efforts to regain what was its lawful seat in the United Nations.
In the 1980s, the initial days of China's reform and opening up, the two sides entered the second stage of their relationship, that is, of strengthening their economic and technological cooperation.
In the next decade, besides continuing to strengthen its economic and trade ties, China also focused on developing an all-round and multifaceted relationship with Africa through political, cultural and educational exchanges.
The Forum on China-Africa Cooperation set up in 2000 plays the role of a strategic platform for increasing bilateral exchanges, widening communications and deepening cooperation between the two sides. Frequent high-level visits of leaders and officials and the concerted efforts they have made to tackle major international issues and bilateral affairs have helped build a new China-Africa strategic partnership.
China's overall trade with Africa has risen rapidly - from $10 billion in 2000 to $106.8 billion in 2008. China has overtaken the United States to become Africa's second largest trade partner - next to the European Union. Chinese investment in Africa has risen from about $50 million in 2001 to an average $1 billion over the past few years. And Africa has become China's second largest overseas destination of contracted labor service projects, with nearly 1 million Chinese working in Africa for about 1,600 Chinese firms.
On the cultural and educational fronts, China has set up many Confucius Institutes - aimed at promoting exchanges - on the continent. The number of African students coming to China for studies has been growing with each passing year, and the Chinese government has held innumerable study and training courses to help Africans form professional contingents in their countries.
An important outcome of such exchanges is that African countries have realized that the Western model is not the only solution for their economic development. China's development model, which has achieved rapid GDP growth over the past 30 years, has inspired many of the African countries. So, in more ways than one, China's engagement with Africa has been creating new opportunities for the continent's development.
The growing China-Africa ties have upset some Western countries, because they still treat the continent as their "backyard". So, some Western politicians, media and NGOs have been scanning every action of the Chinese government, enterprises and even individual businesspersons in Africa and portraying even the tiniest of Chinese molehills as mountains. They stigmatize normal cooperation projects to explore resources as "resource plundering" and accuse Beijing of secretly backing Chinese companies to get projects, which they have actually won through open bidding.
Some even perceive China's persistence with the principle of non-interference in other countries' internal affairs as a covert ploy to support so-called "rogue" or "failed" states. They say China's non-interference principle goes against the West's campaigns to promote "democracy", protect "human rights" and fight against "tyranny and corruption" in Africa. To many, such criticisms may sound somewhat reasonable, but they don't hold water when analyzed.
A country's development should depend mainly on its own planning and efforts. No country can establish democracy, ensure good governance and protect human rights just by shouting slogans and advocating values. Even the most sincere government cannot achieve these goals in a short period. A government has to ensure economic development, improve people's livelihood, build a strong education system and establish the rule of law before it can achieve those goals.
Therefore, China's efforts to help African countries build infrastructure, improve their citizens' livelihood, reduce poverty and train personnel are laying a solid economic and human resources foundation on which they can build democracy. But in the ultimate analysis, Africa's future lies in the hands of the African people.
The author is a research scholar with the Institute of West Asian and African Studies at the Chinese Academy of Social Sciences.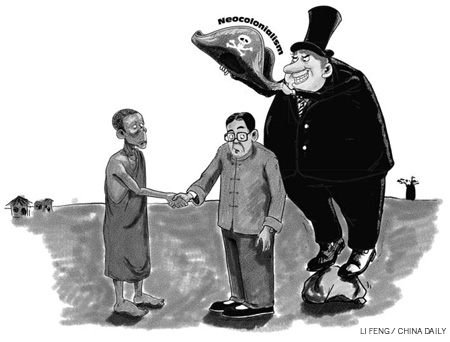 (China Daily 07/17/2010 page5)