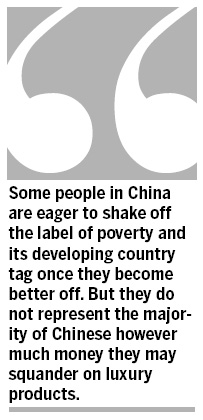 Playing host to the Expo and the Olympics alone does not guarantee China a developed nation status
The grand opening ceremony of the Shanghai Expo, complete with laser beams, fireworks and elegant costumed performers, have raised questions as to whether China is still a developing country or not. Media reports about the extravaganza, many clearly exaggerated, too have given the impression that prosperity has come to China.
Yet, as dazzling as they appear to be, these scenes of celebration cannot mask the harsh reality - that the majority live far more humbly than the impression conveyed of China by the gala Expo inaugural.
Between 40 and 60 percent of China's rural residents, or one third of the country's total, cannot afford to pay for healthcare, according to the latest available data.
In some poverty-stricken regions, especially in western China, nearly 60 to 80 percent of the sick die at home due to lack of money to pay for medical treatment.
Next to breast cancer, cervical cancer is the second most lethal killer of women, with more than 100,000 new cases occurring each year in the country. This is one fourth the world's total.
Of these cases, more than 70 percent are discovered among rural women, as unsafe sanitary conditions hasten the onset of the disease.
The villages in which these women live face chronic water shortages, and they do not have enough money to go to a public bathhouse, usually located miles away.
Around 4 to 6 percent of the nearly 30 million children born annually in China suffer from some sort of birth defect. That means, every 30 seconds there is a baby born somewhere having some congenital defect.
Almost all of the 30 kinds of congenital birth defects defined by the World Health Organization are seen in China.
The country is also one among 20 nations seriously suffering from arsenic poisoning, with 15 million residents in 29 of the 31 provinces, municipalities and autonomous regions exposed to arsenic in drinking water.
Seven of these provinces and regions are still struggling to reach the Universal Salt Iodization goals enumerated by the United Nations at the World Summit for Children in 1990 in New York.
These are but a tiny fraction of the problems China is facing and is trying to resolve in its path toward development. They also serve to remind us that ours is still a developing country.