Pang and Tong: Accolades, but love is the biggest reward
Updated: 2014-04-20 07:57
By Zhang Zhao(China Daily)
| | | | | | | | | |
| --- | --- | --- | --- | --- | --- | --- | --- | --- |
|   | | Print | | Mail | | Large Medium  Small | 分享按钮 | 0 |
Twelve years and four Winter Games but no Olympic gold medals. Yet for figure skaters Pang Qing and Tong Jian, the sport's biggest fortune is not any medal, but the joy of pursuing dreams with a loved one.
Their curtain call came in the pair skating free program competition in Sochi Winter Olympics on Feb 12.
Four years ago at the Vancouver Winter Games, they used The Impossible Dream as their background music. This time the theme continued as they chose I Dreamed a Dream from the famous musical Les Miserable.
But just like the last sentence in the song - "Now life has killed the dream I dreamed" - they ended out of the medals in the fourth place because of some mistakes.
Although they were not the champions, the oldest pair in the competition conquered the audience with their gentle and dedicated performance that interpreted the song's theme of dream and struggles, a reflection of their real life together.
When they started to partner in 1993 in Harbin, Tong was a nearly retired ice dancing competitor and Pang was a single skater of little fame. Neither of them had mastered even the basic moves of pair skating.
Their skills barely improved in the five years that followed because pair skating was a weak spot in all winter sports in China and attracted little attention.
They recalled that they were just "mucking about" in those days. Sometimes they trained with the men's single skaters and sometimes with the women's single.
They also had to turn to coaches of other players for instruction because their own coach Yao Bin was in Beijing focusing on another pair, Shen Xue and Zhao Hongbo, who later became Olympic and World Champions.
They even decided to give up in 1995 after failure in the national championships. But Yao told them to be patient and promised to let them join the national team in Beijing "when the time comes".
The time finally came in 1997, but their poor foundation resulted in severe mistakes in a number of major national competitions. While many insiders lost confidence in them, Yao insisted that they had great potential and had their own style.
Hard persistence
At the International Skating Union Grand Prix of Figure Skating in Canada in 1999, they unexpectedly defeated many renowned rivals and took third place in the short program, which was a huge encouragement.
In the following years they improved their performance steadily, remaining in the top five at the World Championships since 2002. They won their first World Championship gold in 2006.
"We are no legend," said Tong. "We are just common athletes working as hard as everyone else and achieving little by little.
"Over the years of hard persistence, we have shifted our goals in our life from simply fighting for a gold medal to enjoying the performances on the ice," he said.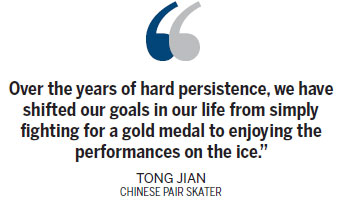 The passion for figure skating is also part of Pang and Tong's daily life. Both are car lovers and Tong has made some particular studies about car brands and performance.
He said he loves the BMW M3 because "it has a strong heart, integrating power into softness, just like figure skating".
Actually half of Chinese Olympic gold medalists are BMW car owners.
'Yes, I do'
The love story of Pang and Tong did not start at first sight.
On the contrary, their early years of partnership were filled with arguments. They often quarreled about training plans or moves because both are stubborn.
Once in 1995, they had a terrible fight over a movement during training, and argued for more than an hour from the ice rink all the way to the dormitory. Over the following week they did not train or even talk together.
But a turning point in their relationship came in 1996, when Pang broke her arm in training. After that, Tong went to look after his partner every day as soon as he finished his training. Their misunderstandings gradually faded away.
Pang has a weak stomach, so Tong often bought medicine and put them in her bag. In return, the most common presents that Tong gets from Pang are socks.
They announced their relationship in 2010 when they returned from the Vancouver Winter Games with silver medals. Tong proposed to Pang on June 19, 2011 at the Art on Ice show in Shanghai, the highlight of the show.
At the opening ceremony of the Sochi Winter Games, Tong marched in the front of the team of China as the flag bearer. When he knew they missed the medals by narrow margin in the finals of pair skating, he kissed his fiancee and whispered "I love you" to her again.
"Even if I lose everything in the Games, I still have my Pang Qing," he said.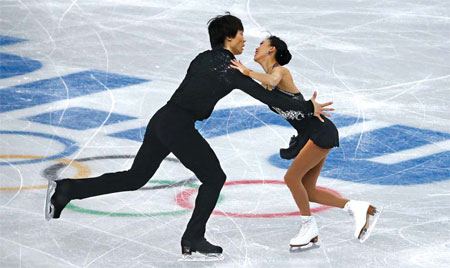 Pang Qing (right) and Tong Jian perform at the Sochi Winter Games.
(China Daily 04/20/2014 page3)