Shanghai orchid show blossoms
Updated: 2014-04-13 07:33
By Wu Yiyao in Shanghai (China Daily)
| | | | | | | | | |
| --- | --- | --- | --- | --- | --- | --- | --- | --- |
|   | | Print | | Mail | | Large Medium  Small | 分享按钮 | 0 |
Shanghai Chenshan Botanical Garden is blooming during the city's second International Orchid Show.
The exhibition displays more than 1,000 orchid species, including some of the rarest.
It features a prize-winning orchid from a Shanghai contest this year, contributed by Ecuador's Ecuagenera Cia Ltda. The plant, Phragmipedium kovachii, which explodes into a single large blossom, belongs to a species discovered in 2002 in Peru.
"I cultivated it from a small seed, and it took us some three years from seeding to the blossom now," the flower's cultivator Jose Portilla says.
Portilla says various orchids have been introduced into China in recent years, and preferences are rapidly changing.
He also presents tropical orchids from Ecuargenera, a scenic spot famous for the flowers. Ecuagenera's origin dates back to the 1950s, when Salesian father Angel Andreetta arrived in Bomboiza in the Amazonian province Morona Santiago, a place rich in gold and orchids. Andreetta began the process of research, selection and collection of some species and has become a pioneer in the country.
"In the stand, we represent people's lifestyles in the Amazon region among many lakes that host a large number of animals. The cascades located at the border of the Andes mountains chain that fall into the Amazon nurture vegetation in the area," Portilla says.
Among the exotic plants on show is Maxillaria variabilis. It blooms any time of the year with a single 1.5-cm flower. Its color varies from yellow to red. The orchid is found in open and dense forests in Mexico, Guatemala, Belize, Colombia and other American countries at elevations of 500 to 2,500 meters.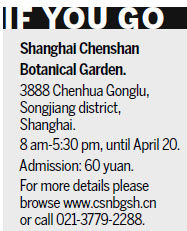 The tiger orchid is native to the terrain from Mexico to Honduras. The plant may grow four to eight flowers. Each may reach up to 33 centimeters in diameter. The flowers are a glossy gold-yellow with brown barring and can bear various colored markings.
The Ladies' Sleeper orchid is of Chinese origins. The plant blooms in spring with three greenish-yellow and relatively small flowers.
"Walking through the orchids, you can see a range of varieties in terms of flowers, sizes and colors," says Lu Wenyin, a 52-year-old visitor.
"Some boast large blossoms and vibrant colors. Others are appealing because of their delicate petals and fragrances."
Traditional Chinese preferences lean toward delicate stems and smaller blossoms, which are symbols of hermits.
However, tropical orchids are becoming increasingly popular in China, with their lasting blossoms and beautiful hues.
Shanghai's plan for diversifying its orchid industry is to import more plants, while giving domestic cultivators an international presence at the show, says Johan Hermans, chairman of London-based Royal Horticultural Society Orchid Committee.

"There are lots of designers and other people here from overseas," he says.
"But the plants are still very difficult to get into China."
Hermans points out it's also challenging for China to export its plants.
He believes this will change.
Shanghai has been making efforts to cultivate new species, develop gardening technology and increase the number of flower shows, Chenshan Botanical Garden director Hu Yonghong says.
wuyiyao@chinadaily.com.cn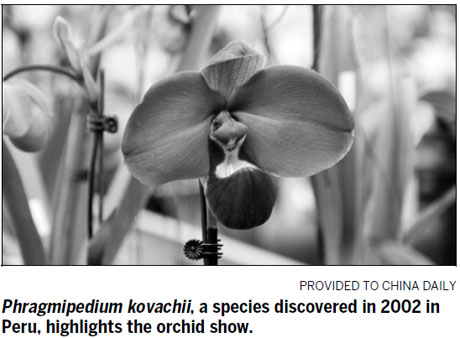 (China Daily 04/13/2014 page9)