Featureless but not faceless
Updated: 2014-04-13 07:33
By Zhang Kun (China Daily)
| | | | | | | | | |
| --- | --- | --- | --- | --- | --- | --- | --- | --- |
|   | | Print | | Mail | | Large Medium  Small | 分享按钮 | 0 |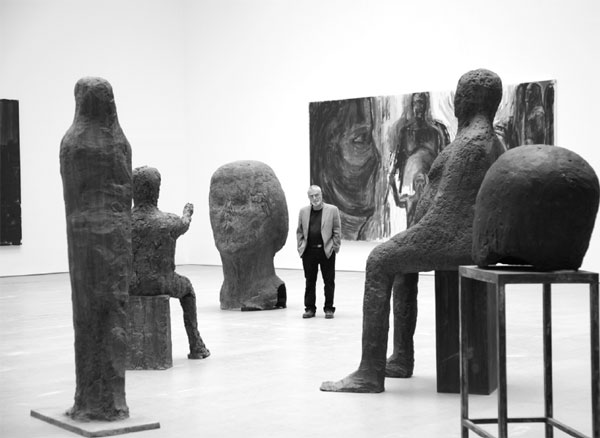 Israeli artist Ofer Lellouche brings paintings and sculptures to Shanghai, including a group of larger-than-life sculptures of people. Provided to China Daily
An Israeli artist's works depict archetypes that capture invisible interactions and silent tensions among these items. Zhang Kun explores his ongoing exhibition in Shanghai.
Ofer Lellouche's exhibition at Shanghai's Himalayas Museum started at an inconvenient time on March 30, when the Israeli consulate was closed.
"A very important artist, a national treasure from Israel, will have his exhibition this weekend, presenting paintings and sculptures, as well as giving a master's class," Lily Ma from the consulate said, explaining why she was not sending official invitations.
"It's a pity, though - the Israeli ministry of foreign affairs is on strike, so we are temporarily closed."
Lellouche says of the labor dispute: "We are very stubborn people - undisciplined sometimes."
But while Israel is a small country, it wields a huge cultural influence. Its people care deeply and are opinionated about art.
"It's difficult to be an artist in Israel," Lellouche says.
The upside is the public thirst for art and literature has inspired many greats.
The 67-year-old sculptor, printmaker and painter says he is so moved by Shanghai's acceptance of Jewish refugees during World War II that he has envisioned a monument to the bond between Chinese and Israeli people.
He imagines two head-shaped sculptures that are taller than a person.
"People will need to look up a little at them," he says, drawing the outlines on the China Daily reporter's notepad.
"They should be positioned facing each other."
Rather than clear features, the faces would respectively bear the Chinese character for the word "human" and the first letter of the Hebrew alphabet, which shares the same meaning.
Details are irrelevant, Lellouche says. Art should not be personal but rather express archetypes that capture the essence of the human condition.
The centerpieces of his exhibition seem to prove his point. They're five larger-than-life sculptures of human portraits, positioned in a group, as if choreographed onstage.
The artist is particularly interested in presenting the invisible interactions and silent tensions among these items.
Standing, sitting or painting, head portrait or skeleton - the artist doesn't endow any of the figures with facial features.
Jewish belief opposes idol worship, Lellouche says. As an artist, he became more aware of idolization in a commercial world. People were so keen to create idols because idols bring easy money, but he says he dislikes this.
"I'd consider all my work an exercise," Lellouche says.
"A critic used to say 'a piece of art finished is finished', and that's not what I want."
The exhibition's title, The Ateliers, hints to this.
In the other two exhibition halls, Lellouche presents paintings on etchings, creating different images on top of the same print, like variations to an existing melody.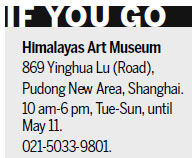 Another space shows his photographs of miniature figurines of his large sculptures. He played with the composition, changing their positions in these photographs, as if rehearsing for a theater production.
"I have a growing need to put some of my works together or, rather, to put them as close to each other as possible ... to experience the confrontation of their solitudes," the artist says.
Lellouche's work is internationally exhibited and collected. He has studios in Paris, Tel Aviv and Beijing.
He has spent much time in China since his first exhibition in the country at Beijing's Cafa Art Museum in October 2012 and has created many works in his studio in Songzhuang, an art community in the capital's suburbs.
He worked as a guest professor at Renmin University, where he "had a fantastic experience surrounded by lovely young students, as - you know - artists are lonely most of the time."
In China, he has forged friendships and connections with artists that are no longer common in the Internet age.
"I would meet artists of my generation, visit their studios and feel at home here."
Contact the writer at zhangkun@chinadaily.com.cn.
(China Daily 04/13/2014 page9)