Latin lover
Updated: 2014-04-13 07:33
By Rebecca Lo (China Daily)
| | | | | | | | | |
| --- | --- | --- | --- | --- | --- | --- | --- | --- |
|   | | Print | | Mail | | Large Medium  Small | 分享按钮 | 0 |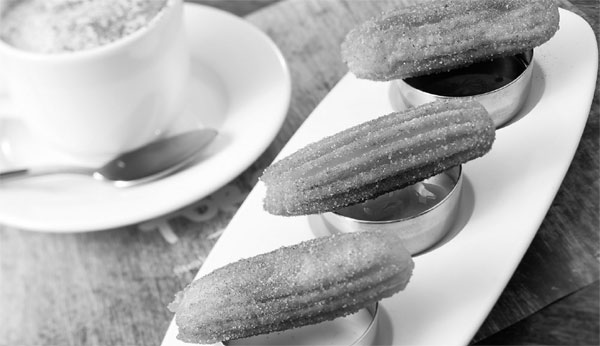 Churros, coated in a fairy dust of sugar, are served with strawberry, dark chocolate and white chocolate sauces. Rebecca Lo / For China Daily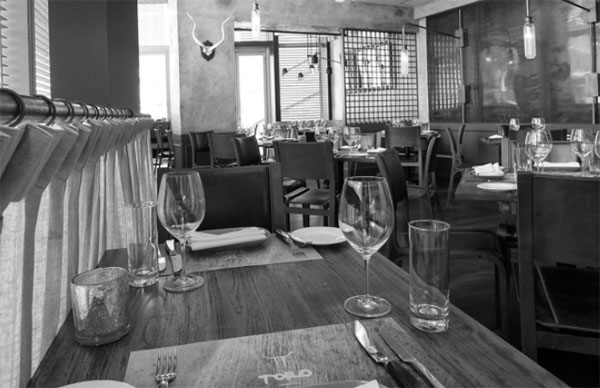 The steakhouse upstairs has plenty of romantic atmosphere. Provided to China Daily
New York-based Mexican chef Richard Sandoval brings his rendition of South American gastropub fare to Toro in Hong Kong. Rebecca Lo munches on some of the best churros this side of the Pacific.
I love anything that does double duty. Reversible bags, vests that can be worn upside down and Transformer-like furnishings can all be found in my closet and home. I extend that sentiment to restaurants, making Toro one of my latest finds.
The latest Dining Concepts outlet takes up the space vacated by Prime Steakhouse in Elements. Toro, however, makes better use of its two levels with distinctively different offerings. It's really two experiences packaged as one restaurant.
The lower level opens out to the Civic Square courtyard, and is perfect for after-work drinks with a few small plates to share. The barstools and gastropub menu add to that casual vibe.
Upstairs, the feel is more subdued and conducive to the fine-dining menu. Generously spaced tables and chairs along with dim lighting play up its romantic atmosphere, although there were as many families as couples dining there the night we visited.
We were warmly welcomed by Rodrigo Poligritti, a Buenos Aires native who provided the perfect level of service for an upscale surf-and-turf restaurant: attentive and knowledgeable when beckoned yet invisible when not.
We were intrigued by some of the items on the pan-Latin gastropub menu created by New York-based Mexican chef Richard Sandoval. What is chifa? Poligritti explained that there is a significant Chinese population in Argentina and Peru that reconstructed Chinese dishes such as fried rice with Latin American ingredients. Over time, the cuisine developed a life of its own and became known as chifa, a Spanish aberration of chow fan.
As we were in the dining room upstairs, though, we concentrated on the main menu. I was in the mood for a cocktail and when in Rome, I decided to go for a strawberry basil caipirinha. Made with cachaca - I wouldn't be able to distinguish it from rum - and lemon-basil syrup, its refreshing strawberry-infused fruitiness was echoed with a decorative berry.
One of my friends is a pescetarian, and we found plenty of fish and seafood to satisfy her cravings. We ordered a round of hot and cold starters to share: volcano rolls, hamachi tiradito and crusted sea scallops.
They were three for three. The rich torched salmon topping the spicy crab and avocado roll was indeed volcanic in taste and texture. A dollop of fiery aguachile with the ceviche-style hamachi balanced the green-apple slivers and paper-thin radish. But my favorite was the Parmesan cap of crumbs on tender and juicy scallops on a pond of lemon butter: finger-licking goodness.
As Toro is billed as a steakhouse, I thought it was my duty to order something that once mooed. I had a choice of six cuts from the world's best cattle-producing countries, and settled on a Kobe skirt steak imported from Australia, prepared churrasco in a manageable 10-ounce portion.
It was served with three sauces: chimichurri, barbecue salsa and horseradish cream. I loved the little kick that horseradish gave my steak, and it was easily my preferred condiment above the other two.
The beef was served in angle-cut strips and charred to a smoky crispness on the outside while meltingly tender on the inside. Though skirt is known more for its flavor and is a preferred cut for Latin dishes such as fajitas, the Kobe's even marbling made it perfect for the grill. Its simple seasoning allowed the natural juices to take center stage.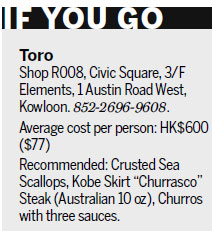 As all the mains were served without side dishes, we ordered macaroni-and-cheese as well as creamed spinach. After I sampled my friends' mains of chicken a la brasa and achiote-barbecued salmon with chayote slaw, I concluded that I made the right choice with the skirt steak.
Despite all of groaning over full stomachs, we perked up when Poligritti passed along the dessert menu. I was immediately drawn to flan de coco, with its winning combination of coconut, salted caramel and pistachio ice cream. It didn't disappoint, and the whole pistachios served with the ice cream made a splendid contrast against the smoky caramel.
We agreed that the churros were worth leaving room for, even though it meant that we all had to loosen belts. I've had churros in Spain that paled in comparison to these light and airy confections. A fairy dust of sugar made the doughnuts delightful on their own; when dunked in strawberry, dark chocolate or white chocolate sauces, they were transformed into celestial clouds of worthy of worship.
If Toro was representative of pan-American fare, I'm booking my flight to Buenos Aires today.
Contact the writer at sundayed@chinadaily.com.cn.
(China Daily 04/13/2014 page8)