World Scene
Updated: 2014-04-13 07:17
(China Daily)
| | | | | | | | | |
| --- | --- | --- | --- | --- | --- | --- | --- | --- |
|   | | Print | | Mail | | Large Medium  Small | 分享按钮 | 0 |
Mummified singer is star of new British Museum exhibition
A singer is the star of the show in a new exhibition of mummies at the British Museum for which modern medical scanners have been used to examine eight bodies and find out what they looked like, how they lived and how they died. The technology has helped the researchers to look through bandages and inside mummy cases that have never been opened, take images of amulets and statues stored with the body, and reproduce those objects for display at the exhibition Ancient Lives, New Discoveries, which opens on May 22. "We're getting much greater precision," says John Taylor, assistant keeper of the museum's Department of Ancient Egypt and Sudan, from which the eight mummies forming the exhibition were taken.
Florida woman arrested in topless rampage at McDonald's
A bare-breasted woman wearing only bikini bottoms was observed by security cameras vandalizing a Florida McDonald's. In the video, which went viral on Tuesday, the woman is seen shoving cash registers onto the floor, overturning a drinks dispenser and throwing items at staff before helping herself to some ice cream. Sandra Suarez, 41, entered the McDonald's in Pinellas Park on Florida's west coast on March 24, and when an employee asked her to put on some clothes, she refused and became destructive, according to a police report obtained by the Tampa Bay Times. The police report said she caused about $10,000 in damage.
Texas woman arrested after telling police she was sold bad pot
A Texas woman who complained to police that a drug dealer sold her a bad batch of marijuana that did not pack much of a punch has been arrested, police said on Tuesday. Evelyn Hamilton, 37, was jailed on Friday after also telling police in Lufkin, Texas, that the dealer refused to give her a refund. She was later released on $500 bail for a drug paraphernalia charge. She had in her possession a bag with a small amount of pot, says Lufkin Police Sergeant David Casper. The person Hamilton says was the dealer has not been arrested.
Zimbabwe crocs go veggie for high fashion
Crocodiles are some of the most feared predators in Africa, ruthless reptiles renowned for tearing their prey to pieces before swallowing hunks of meat raw. But in the baking sun at Nyanyana crocodile farm on the shores of Zimbabwe's Lake Kariba, feeding time has a surreal edge as the beasts nibble lazily at bowls of vegetarian pellets. Besides being cheaper than meat, the diet of protein concentrate, minerals, vitamins, maize meal and water is said to enhance crocodile skin destined to become handbags or shoes on the catwalks of New York, Paris, London or Milan.
Missing $3.7 million painting may have gone out with the trash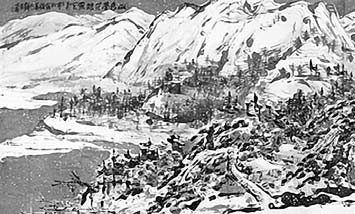 A painting that was auctioned for HK$28.8 million ($3.7 million) two days ago has gone missing, police said, with media reports on Wednesday suggesting cleaners may have inadvertently thrown the artwork out. The 2012 painting Snowy Mountain, by Chinese artist Cui Ruzhuo, was reported missing by Chinese auctioneers Poly Auction on Tuesday afternoon after the auction on Monday, police told Reuters. Ming Pao newspaper reported that police had checked CCTV footage at the Grand Hyatt hotel, where the auction took place, which showed cleaners removing the painting. That raised fears that the painting had been sent out with the garbage to the city's landfill.
Czech fraudster wins new job, steals again and runs
A Czech fraudster on the run from prison got hired as a chief economist at a museum, where he stole some 10 million Czech crowns ($500,000), media reported. Police came on Thursday to arrest Vladimir Prokop at his office at the National Agriculture Museum, close to the Interior Ministry. He fled through the exhibition halls of the museum, an emergency exit staircase and then hailed a cab, television Nova reported late on Friday. "He was an ordinary, even compliant man. Nobody thought he would turn out to be a world-class trickster," the museum's spokesman Lubomir Marsik says. The money stolen amounts to roughly a third of the annual budget of the museum. Most of it was found in plastic bags at Prokop's apartment.
Clever chimps at Kansas City Zoo make brief break to freedom
Seven chimpanzees used an improvised ladder from a tree to scale a wall and briefly escape their enclosure at the Kansas City Zoo on Thursday, a zoo official says. One of the chimps apparently pulled a log or a branch and leaned it against the wall of the enclosure, giving the primates a leg-up to the top, zoo director Randy Wisthoff says. The animals did not have any contact with zoo visitors, as they escaped into an area reserved for zookeepers, he adds. There are 12 chimps in total at the zoo, which was closed after the incident.
- Reuters
(China Daily 04/13/2014 page4)