Scaling new heights
Updated: 2014-04-13 07:17
By Zhao Ruixue (China Daily)
| | | | | | | | | |
| --- | --- | --- | --- | --- | --- | --- | --- | --- |
|   | | Print | | Mail | | Large Medium  Small | 分享按钮 | 0 |
The hardships of his childhood have taught Chen Zhou valuable lessons he now wants to share with others. Zhao Ruixue reports in Jinan.
A bulletin board in his office lists Chen Zhou's schedule for April: He is due to give 15 speeches this month, and he says his agent has had to turn down invitations to do dozens more.
The 31-year-old has traveled throughout China during the last two years, visiting schools, universities and companies with his message: "Nothing is impossible as long as you hold on."
Chen's career as a motivational speaker began in 2012 when he was invited by an Internet addiction recovery center in his hometown Linyi, Shandong province, to talk about what motivated him to climb mountains - something that is especially challenging for Chen since he lost both his legs in a railway accident when he was 13. It was a life-changing moment in an already difficult childhood.
Chen's parents divorced when he was 6. His father was addicted to gambling and his mother married another man, so Chen was sent to live with his grandfather. After the accident, he was confined to his bed for a year. When he emerged from his room, he found that he had been abandoned by his playmates.
"Not wanting to be a burden on my grandfather, I left home to make a living on my own," Chen says.
"It was not easy to make a living by myself. I experienced every sort of bullying, which made me frequently think about ending my life."
When he was about 15 years old, he stuffed himself into a garbage bin in winter hoping to freeze to death, but he was saved by an old woman who found him and gave him food.
"I met a lot of nice people, including the old woman who gave me food when I crouched in a garbage bin in a freezing winter and the man who saved me when I fell into a river. If they hadn't given me a hand, I might have already died," Chen says.
In the end he finally gave up the idea of killing himself.
"I decided to be thankful for what I do have, and not be mad about what I don't," he says.
In 2000, when Chen was at the foot of Taishan Mountain, he felt a strong desire to get to the top of the mountain to see the sunrise.
"I asked a man who returned to the foot from the mountain's top - 'How high is the mountain?' The man looked down at me and said: 'It's useless for you to ask this question. No matter how high it is, you are not able to climb the mountain,'" Chen recalls.
"His words pushed me to climb the mountain. I wanted to prove that I can live as a normal person."
He spent 14 hours getting to the highest peak on Taishan Mountain, which is 1,532 meters above sea level, with the help of two wooden boxes.
"As I climbed many people advised me to give up, but I kept on going," Chen says.
To date he has climbed more than 90 mountains in China, including Huashan Mountain in Shannxi province, which is known for its steepness.
The same year Chen started climbing mountains, he began singing in the streets to make a living. This brought him his biggest reward when he met his beautiful wife.
"I never thought I could find my soul mate who would want to share her life with me," Chen says.
"I fell in love with him the first time I saw him singing in a square," says Yu Lei, Chen's wife. "I was touched by his smile. And he had the most important thing I am looking for - respect for life."
Chen is now the father of two children, an 11-year-old girl and a 7-year-old boy.
"My kids have never been ashamed by having a father who has no legs," Chen says.
Chen didn't dare to pick up his kids from school until one day, when his daughter was 9 years old, he plucked up the courage to wait for her outside the school.
"Children stopped to look at me and some asked my daughter: 'Why does your father have no legs?'" Chen recalls.
"But my daughter didn't feel any embarrassment. She whispered to me that she is proud of me.
"In her painting of our family, I have legs. She regards me as the same as them."
After he gave his first speech at the Internet addiction recovery center in Linyi, Chen got several calls from parents.
"They told me their children had given up the Internet and were studying hard. You can never imagine how happy I was to know my story can inspire others," Chen says.
Now in addition to touring China to share his stories, Chen is building a website aimed at helping kids in need.
Contact the writer at zhaoruixue@chinadaily.com.cn.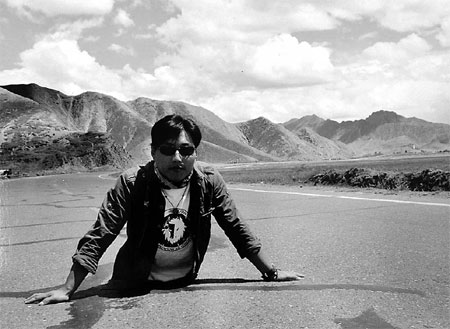 Chen Zhou has climbed more than 90 mountains in China and he draws on his experiences as a motivational speaker. Provided to China Daily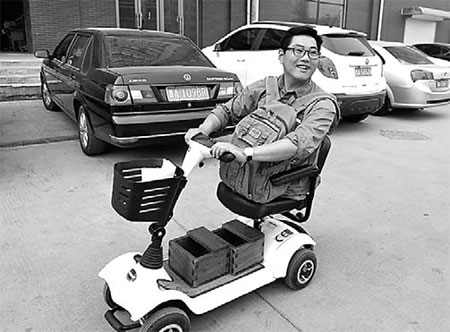 Chen travels to his office, where he runs a website aimed at helping kids in need. Ju Chuanjiang / China Daily
(China Daily 04/13/2014 page4)