Experience that adds up
Updated: 2014-04-13 07:17
By Belle Taylor (China Daily)
| | | | | | | | | |
| --- | --- | --- | --- | --- | --- | --- | --- | --- |
|   | | Print | | Mail | | Large Medium  Small | 分享按钮 | 0 |
Chinese students and graduates are discovering overseas internships do wonders for their resumes and skill sets. Belle Taylor reports.
Chinese students in Europe and North America are finding experience outside the classroom can provide a critical edge when it comes to looking for work if they wish to stay overseas beyond graduation.
Xu Ruiwan has worked in the New York office of the United Kingdom-based marketing and promotion agency TRCo Marketing for two years. But securing the plum position did not come easily. She was offered a full-time job only after completing a one-month internship with the company - just one of four internships she undertook to boost her career prospects.
"It's quite difficult for international students like myself to find a job in the US without any local experience," Xu says.
"Initially, I just wanted to accumulate more experience and didn't think that would land me a job. But it really helped."
Her experience also inspired her to found a startup - Career Pro USA, a platform for Chinese students, professionals and entrepreneurs to network and seek career opportunities in the United States and China. Last year, more than 100 Chinese students found internships or jobs through the platform.
She says Chinese graduates who wish to work overseas benefit from on-the-ground experience in the countries they wish to work in.
"In the US, they really love to see internships on your resume, especially local ones," Xu says.
"Many (human resource recruiters) told me they value a US internship experience at a small company more than an internship with a Fortune 500 company in China because they are not sure if overseas experience is transferable."
Xu says her internships not only gave her practical professional experience but also improved her English and taught her skills she could never have learned in a classroom, such as US office culture and dinner etiquette.
Song Dongyue, who studied at a university in Canada, also found local work experience gave her an edge when looking for jobs.
Song complemented her classroom learning with a part-time role at tax consultancy H&R Block. At first, she thought it was a good way to earn some extra money. But she later realized the experience brought other benefits.
"It was a very good way to practice my English and social skills," Song says.
"Although I was studying in Canada, there are a lot of Chinese people there, and it's human nature to speak with people who speak the same native language. As a tax consultant I had to talk to local people and learn about their life. It was a really good way for me to learn about the local culture."
She also found it gave her an edge when seeking other employment.
"My classmates and I all looked for jobs after graduation and my experience made things easier than my friends' because H&R Block is pretty well-known," Song says.
"When my employer looked at my resume, they saw that I had worked locally in Canada."
Song says her local experience counted more than the internships she had completed in China during her summer vacations, including at Bank of China - one of her homeland's "big four" banks.
"In Canada, they don't really recognize that experience because it's not in Canada," she says.
She secured a job with the Bank of Montreal, where she worked for a year before returning to China.
Song now works for online retailer Jd.com - putting the skills she learned in both Canadian classrooms and workplaces to good use.
Contact the writer at belletaylor@chinadaily.com.cn.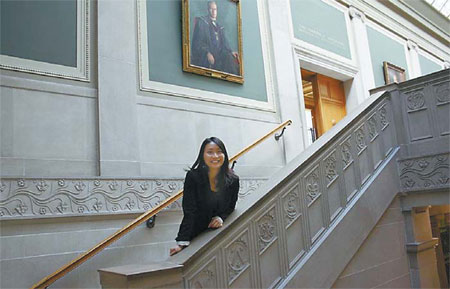 Xu Ruiwan says internships in the United States can help Chinese graduates and students accumulate experience and land jobs. Provided to China Daily
(China Daily 04/13/2014 page3)