Search teams investigate 'black box' pulse
Updated: 2014-04-06 08:02
By Zhao Lei(China Daily)
| | | | | | | | | |
| --- | --- | --- | --- | --- | --- | --- | --- | --- |
|   | | Print | | Mail | | Large Medium  Small | 分享按钮 | 0 |

Signal detected in southern Indian ocean, but experts are divided about the source
A Chinese ship in the southern Indian Ocean detected pulse signals on Saturday that may have been emitted by the black box of the missing Malaysia Airlines flight MH370.
However, a senior Chinese official close to the search operation said it was too early to confirm whether the signals were sent out by the plane's black box.
"We did detect some signals, but it will a take a long time to verify them," a senior publicity official from the Ministry of Transport, who asked to be identified simply as Peng, told China Daily on Saturday night.
"Moreover, China alone cannot announce whether we have located the black box. We must work with the other nations involved in the search, such as Australia, to research this development," he said.
A Chinese patrol ship Haixun 01 detected a pulse signal with a frequency of 37.5kHz per second in the waters of the southern Indian Ocean, according to the Xinhua News Agency, which has a reporter aboard the ship.
A black box detector deployed by the ship picked up the pulse at latitude 25 degrees south and longitude 101 degrees east, the report said.
The signal lasted around 90 seconds, Shanghai newspaper Xinmin Evening News reported. The newspaper said two Chinese navy ships were set to sail to the area where the signal was detected.
The average depth of the area is about 5,000 meters, the newspaper quoted searchers on board Haixun 01 as saying.
A number of floating objects were also spotted on Saturday by a Chinese military aircraft in a remote part of the southern Indian Ocean west of Perth, Chinese military sources said.
In a statement sent to China Daily late on Saturday, the China Maritime Rescue Coordination Center said: "The suspected signal has yet to be verified, therefore we can't yet establish if it is related to flight MH370's black box".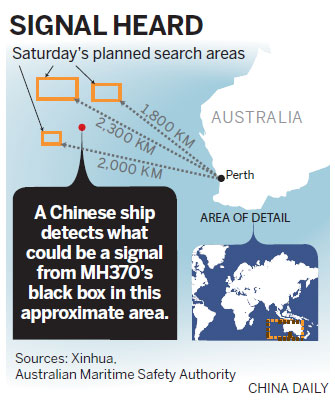 The black box, which contains a flight data recorder and a cockpit voice recorder, is fitted with an underwater locator beacon that begins emitting a pulse if its sensor touches water, meaning it "pings" once a second for 30 days before the battery runs out.
Wu Renbiao, vice-president of the Civil Aviation University of China in Tianjin, told China Central Television that it was "highly likely" the signal was sent from the black box because 37.5kHz is the frequency designated for the device.
However, an audio sample of the signal must be compared with parameters from the black box's manufacturer before it can established if it was emitted by the missing plane's recorders, he added.
"That is the standard beacon frequency" for black boxes, Anish Patel, president of pinger manufacturer Dukane Seacom, told CNN, "they're identical."
CNN aviation analyst David Soucie said: "This is a pinger. I've been doing this a lot of years, and I can't think of anything else it could be."
But other experts urged caution.
"This could be a number of things," oceanographer Simon Boxall told CNN, adding that the frequency is used by a number of devices.
Radar expert Professor David Stupples told Britain's Sky News: "If a signal has been received, it could be the black box or it could be something extraneous. I don't know anything (else) that puts out the 37.5kHz signal."
But Stupples said he would remain "skeptical" until further evidence emerged.
zhaolei@chinadaily.com.cn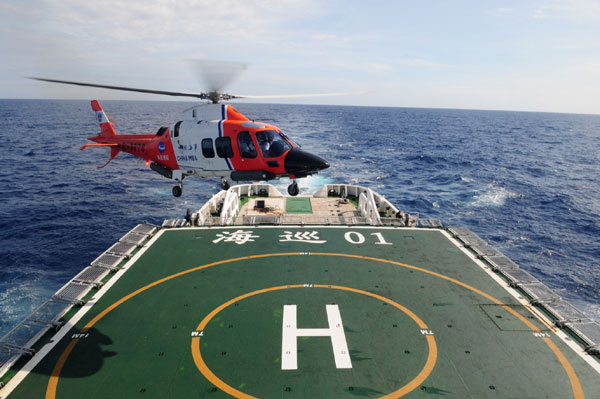 A helicopter takes off from Haixun 01 to search waters in the southern Indian Ocean on March 21. Chen Weiwei / Xinhua
(China Daily 04/06/2014 page1)