Swimming in inspiration
Updated: 2014-03-23 08:19
By Mike Peters(China Daily)
| | | | | | | | | |
| --- | --- | --- | --- | --- | --- | --- | --- | --- |
|   | | Print | | Mail | | Large Medium  Small | 分享按钮 | 0 |
For artist Jeffrey Morabito, ideas are like fish. writes Mike Peters
Not every teacher enjoys being called out by one of his students, but Jeffrey Morabito took it in stride at his recent exhibition opening at the Beijing American Center. The overflow crowd included many students in Morabito's class at Beijing Normal University. The artist had been describing the spontaneous nature of his creativity, insisting that his work isn't generally based on anything particular - and doesn't need to be. Stream of consciousness can be the best muse.
"That's not what you tell us in class," a querulous "Danny" counters later during a Q&A session, noting that Morabito the teacher regularly guides students to find sources of inspiration.
The student also wonders about A Fisherman's Dream, the centerpiece painting in this exhibition, Ideas Are Like Fish, in which a man with indistinct features stands holding a tuna that's at least as big as he is.
"Are you the man or the fish?" Morabito is then asked.
"Two really great questions," he replies, unruffled. He explains that young students need a traditional curriculum to get them on their way, especially given the time constraints of art school.
"I'm doing you a service by not making the class about me," he tells his students with a quiet smile.
Doing his own work, he says, he has the luxury of time - and an idea that triggered a painting today may dissipate or simply be overrun by subsequent ideas by the time he finishes the painting months later.
Take that fish, a painting he says was triggered by his sick pet fish, Edward. ("All of my pets are named for English royalty," he says.) In a deadpan voice, he describes how he almost lost Edward down the drain once, how he almost drank him from a water bottle and how his finned friend ultimately committed suicide. ("Who could blame him?" someone mumbles behind us.)
The fish in the painting, however, is no emaciated pet. In fact, it looks big and delicious - lunch for 50 of your best friends.
"I like to paint what people eat," Morabito says, perhaps coincidentally, as he launches a slide show of his recent work. The audience inhales as a unit when the first picture appears: Korean people eating live octopus.
The scene employs one of the artist's favorite motifs, the cityscape, though he cautions against trying to read too much reality into these paintings. Even the Korean fish market, he says, is an amalgam of more than one urban environment.
The title of the exhibition, Morabito says, is taken from the book Catching the Big Fish, in which David Lynch writes: "Ideas are like fish. If you want to catch little fish, you can stay in the shallow water. But if you want to catch the big fish, you've got to go deeper. Down deep, the fish are more powerful and more pure. They're huge and abstract. And they're very beautiful."
Milking the metaphor a bit, the artist says rather than looking for ideas, he prefers to look for "bait for an idea".
"When I start out with a specific intention," he says, "that's when a painting usually goes wrong. I can spend two or three years on a painting, so it takes passion for me to finish one."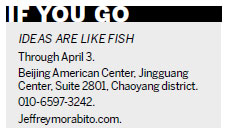 Born in Bronxville, New York, Morabito is half-Chinese and spent his early years traveling between Hong Kong, where his family is from, and New York.
In 2006, he came back to Asia to study calligraphy and ink-wash painting in Seoul. Ink painting, he has found, really suits his stream-of-consciousness approach to his work - "though a figure almost always appears in it at some point. I don't always know who it is."
Morabito came to Beijing, which he calls "a place of cultural intrigue", in 2009 on a Red Gate Gallery residency.
"I spent time in my childhood in Chinatown in New York," he says. "Like most immigrant communities in New York, the culture is frozen in time while the home country changes."
He's been based here ever since, painting in his studio and teaching art in an exchange program.
"People consider some of my paintings horrific," he says, and he doesn't just mean the images of people eating live octopus. "But I don't consider them scary. I try to lead a drama-free life, but drama can come out in my work."
Contact the writer at michaelpeters@chinadaily.com.cn.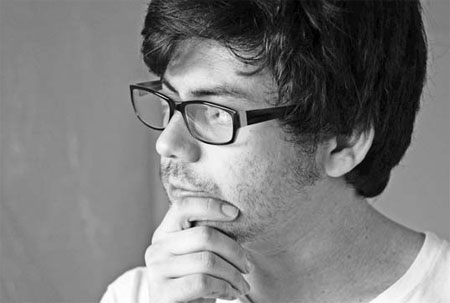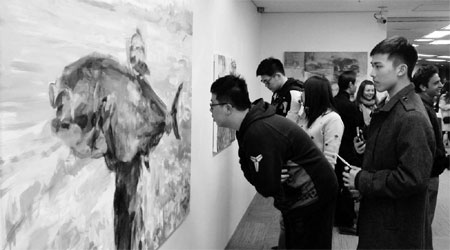 The centerpiece of artist Jeffrey Morabito's recent exhibition is A Fisherman's Dream in which a man with indistinct features stands holding a tuna. Photos Provided to China Daily
(China Daily 03/23/2014 page5)