Song set to sail into history
Updated: 2014-03-23 08:10
By Xie Chuanjiao in Qingdao, Shandong province (China Daily)
| | | | | | | | | |
| --- | --- | --- | --- | --- | --- | --- | --- | --- |
|   | | Print | | Mail | | Large Medium  Small | 分享按钮 | 0 |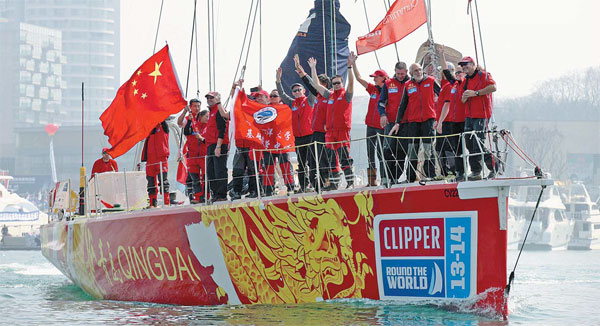 The Qingdao, China's entry in the Clipper Round the World Race, leaves Qingdao International Marina for San Francisco at the start of the sixth leg on March 16. Xu Chongde / For China Daily
China's pioneering female sailor stays focused in wake of mother's illness
The tears flowed freely last week when Song Kun arrived in her hometown to a heroes' welcome from hundreds of spectators and well-wishers at the Qingdao Olympic Sailing Center.
Song, a crew member of The Qingdao taking part in the fifth Clipper Round the World Race, is set to become the first Chinese woman to circumnavigate the globe. For her, arriving at her home port proved to be particularly poignant.
Among the crowd was Ma Jianhua, Song's mother. They embraced and kissed as emotions ran high. The reunion after seven months was particularly touching because Ma has advanced liver cancer.
"I would have stayed at home to take care of her, but my mom persuaded me to change my mind," Song said.
"She said she would continue to fight the disease and I should go battle the sea. Both of us shall never give up our causes - that is a promise."
Meanwhile, Ma said she was happy to see her daughter accomplishing great feats on the high sea rather than staying at home and watching her try to cope with her illness.
Last week, Song, 31, took on the final legs of her round-the-world quest, but as she disembarked in Qingdao that journey was far from her thoughts.
"Now I just want to drink coffee from a window overlooking the street, have some quality time with my mom, visit some friends," Song said, responding to questions about her plans during the four-day break.
"Everything that you think is normal life is precious happiness - and I have longed for it," she said.
"But there are some wonderful memories at sea as well, like dozens of dolphins following our flashlights - it was beautiful, like a scene in the movie Life of Pi."
The Clipper Race is the longest sailing competition in the world, covering 40,000 miles and 14 ports of call on six continents.
A total of 650 crew from 45 countries and regions are taking part in the event, in 12 identical 70-foot ocean racing yachts designed by British naval architect Tony Castro.
The overall race is divided into individual stages and points are accumulated in a Formula 1-style scoring system. The yacht with the highest total at the finish wins the clipper race trophy.
So far the fleet has already stopped in Brazil, South Africa, Australia, Singapore and China. In August, they will arrive back in London.
The British team was confirmed in first place for Race 9.1 from Singapore to China's 'Sailing City' of Qingdao. The Qingdao was ranked seventh.
Already a celebrity in Qingdao sailing circles, Song is likened to Guo Chuan, also a native of that city, who became the first Chinese man to compete in the clipper race in 2005-06. He sailed solo non-stop around the world in 137 days and 20 hours last year, logging a total of 21,600 nautical miles.
Over the past six months, Song has overcome numerous challenges at sea.
When the boat sailed around the equator, the crew had to work and live in stifling heat that hit 40 C.
When traveling south, the temperature fluctuated between 8 and 20 C, and the wind often hit 40 knots.
"A wave hit my face just like a heavy ice hammer," Song said.
"When the boat rocks, thing like eating, using the toilet and sleeping all become big challenges."
Song has become competent in some of sailing's toughest tasks under trying circumstances, including furling and changing sails and steering the boat.
Song was first exposed to sailing when she worked as an assistant teacher from 2006 at the National Organization of Community Sailing Programs, a non-profit operation that promotes sailing among Chinese youth.
With her fluent English and knowledge of sailing she then worked as a manager at a local sailing club which has hosted many international events since 2011.
She also competed in the final leg of the 2011-12 Clipper Race.
When the boat sailed from Singapore to Qingdao, Song was the duty skipper, taking on the leadership role when the skipper was not available.
"I needed to think independently about managing the crew to ensure the safety of everyone instead of just doing what I was told," she said of the responsibility.
"For me, it is more about trust and responsibility. I hope one day I can become a captain like Guo Chuan."
"Next we will set off to cross the Pacific Ocean and sail to San Francisco, which is a very long journey," she said.
"It will be an arduous trip for me. I have to keep my stamina and adjust my mental status to complete the journey."
Song said e-mails from friends and phone calls to her family helped her relax and persevere.
"I love sailing because most human activities just consume the resources and energy of nature, but sailing is a great invention that harmonizes and combines the human spirit and power of nature." she said.
Sir Robin Knox-Johnston, founder and chairman of the race, visited Qingdao with the fleet. He said it was his seventh time in the city and that it provided "the most glorious welcoming ceremony" among all the ports.
"Qingdao is one of the most important parts for the Clipper Race and it has quickly developed into a big city with huge changes over the years. Many people now know it as China's sailing city," said Knox-Johnson.
Of Song, he said: "She is very lovely and popular among her crew. Everyone likes her and enjoys working with her.
"As the first Chinese woman to sail round the world, it will be a great achievement for herself, for Qingdao and for the country."
Knox-Johnson said there was only one Chinese sailor in the Clipper Race five years ago, but by the time this one is over, 20 Chinese would have participated.
"A Clipper fully crewed by Chinese sailors is not far off," he predicted.
Ma Weixin contributed to the story.
xiechuanjiao@chinadaily.com.cn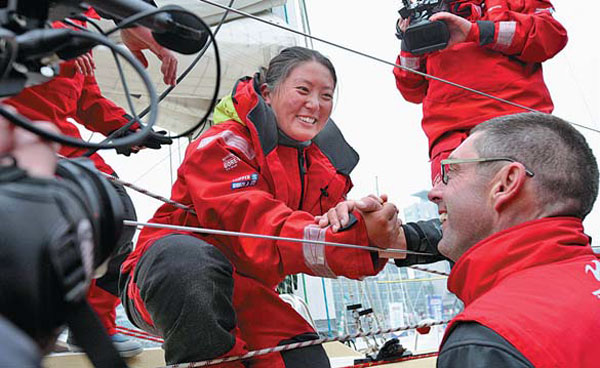 Song Kun, seen here after arrving at Qingdao International Marina on March 12, is the only female crew member of the Qingdao boat to take part in the Clipper Round the World Race. She could become the first Chinese women to complete a round the world sailing race when the event finishes in London in August. Xu Chongde / For China Daily

(China Daily 03/23/2014 page12)