Understanding of culture looms large
Updated: 2014-03-23 08:09
By Wu Yiyao in Shanghai (China Daily)
| | | | | | | | | |
| --- | --- | --- | --- | --- | --- | --- | --- | --- |
|   | | Print | | Mail | | Large Medium  Small | 分享按钮 | 0 |
Houndstooth, checkerboard, colorblocks, diamonds - when Shanghai-based textile designer Hu Minna first saw these patterns during her visit to a remote village in Guizhou province in 2006, she was in awe. She was even more impressed when she was told all these patterns have been circulating on local looms for centuries.
Hu decided to bring the patterns to the public - hence the exhibition of Chinese Cloths: Woven, Dyed, Embroidered.
The exhibition, which shows hundreds of items collected by Hu since 2006, aims to expose the cloths of China's traditional crafts, their relationship with nature and their meaning in today's fast-paced society. It is also a record of hundreds of patterns invented, inherited and inspired throughout the centuries by people around the nation.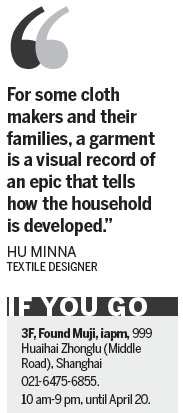 All the objects displayed at the exhibition are collected from villages from Yunnan, Sichuan, Guizhou, Guangxi and around Shanghai. Despite the vast geographical span, the locations sometime offer similar motifs of cloth pattern which reflect migrations and cultural merge over the centuries. However, on second look, visitors can tell the delicate differences between patterns from two neighboring villages.
"All the cloths on display were actually essentials to the local people's living," Hu says. "They don't make these cloths for sale - they make them for wrapping their babies, preparing for girls' dowries or simply for wearing. And for this reason, every piece is like a clan badge that shows the family's wisdom and capability."
A garment collected from Guizhou province is one of the highlights of the exhibition. It adapts batik painting skills with motifs of nature and the family's history with vivid portraits of ancestors, snakes and birds.
"For some cloth makers and their families, a garment is a visual record of an epic that tells how the household is developed," Hu says.
Some tools, including looms and knives for drafting patterns and waxes for batik paintings, are also exhibited, giving visitors insights into the complicated cloth-production processes.
Unlike the modern fashion industry, the traditional cloth making is time consuming and the products last much longer. The patterns and the skills are usually the secrets of a family handed down from mother to daughter. Traditional cloth making is demanding, and requires a lifetime of learning and training. It may take dozens of steps and several months to finish a handkerchief-sized piece.
The folk patterns and traditional cloth-making crafts are precious in terms of their contributions to the database of the textile industry as they are still inspiring today's textile designers.
However, as mass-produced clothing is increasingly replacing traditional cloths, some of the patterns and crafts are on the edge of dying out.
"I think maybe one of the best ways to preserve the traditional patterns and crafts is to find their positions - or functions they potentially realize - to today's world," Hu says.
"For example, making them into smaller-sized products such as a shoulder bag, a purse and name-card holder."
wuyiyao@chinadaily.com.cn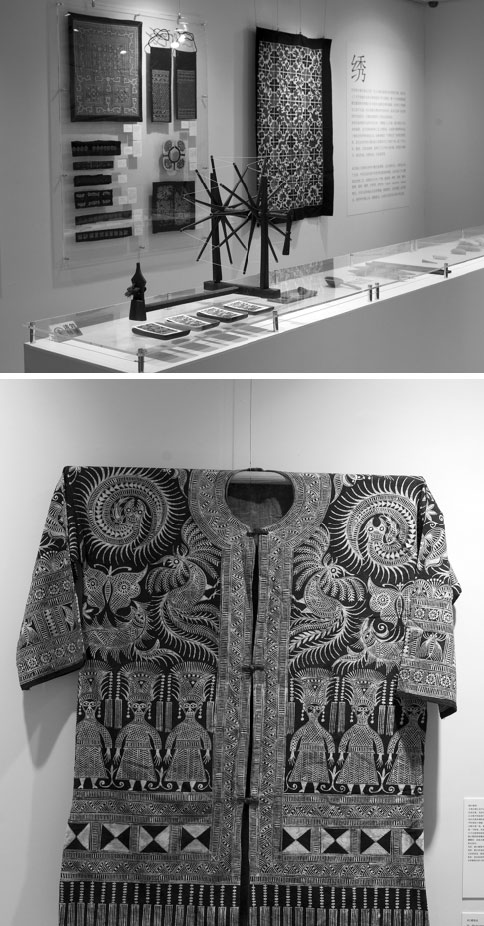 The textile products are collected from villages in Yunnan, Sichuan, Guizhou, Guangxi and around Shanghai. Photos by Gao Erqiang / China Daily
(China Daily 03/23/2014 page9)