Tough times ahead for Bayern
Updated: 2014-03-16 08:12
By Agence France-Presse in Munich, Germany(China Daily)
| | | | | | | | | |
| --- | --- | --- | --- | --- | --- | --- | --- | --- |
|   | | Print | | Mail | | Large Medium  Small | 分享按钮 | 0 |
Jail-bound president leaves European champion in a bind
Bayern Munich may be dominating and setting records on the pitch, but off it the European champion has tough decisions to make with club president Uli Hoeness now likely jail-bound for tax fraud.
Hoeness's 3 1/2-year sentence on Thursday in a Munich court has sent shock waves through the Champions League holder and will force it to live without the figurehead and driving force behind its success.
"Uli Hoeness is the most important person in this club," star coach Pep Guardiola said last week, expressing a widely-held sentiment. "Uli is a friend and it will always remain so."
Hoeness's fall from grace comes with the team he built on the ascendancy and confirmed as the best club side on the planet after winning the Club World Cup last December.
Hoeness, 62, was still president and chairman of the board, which had refused his resignation last May, vowing to back him until his trial was heard.
Amid calls from German politicians for Hoeness's resignation, the board stood by him as he shed tears of gratitude.
There has been zero condemnation from within the tight-knit Bayern camp.
The club's stance was that tax matters were personal choices made by Hoeness, unconnected to his work as an employee, but his conviction now tarnishes the image of his beloved Bayern.
Certainly, any decision to accept his resignation or force him to stand down will not be taken lightly, as his defense team said it would appeal the verdict.
"He personifies FC Bayern, so he belongs here," Franz Beckenbauer insisted to broadcaster Sky after Hoeness attended Tuesday's Champions League draw with Arsenal while his trial was ongoing.
"Perhaps he needs the support and encouragement."
'Driving force'
Fear of the looming verdict was already weighing heavily on Hoeness. Joined by his wife, Susi, and brother, Dieter, Hoeness cut a forlorn figure at Munich's Allianz Arena.
There was little support from the 68,000 fans packed into the stadium: only a single 'Uli' banner could be seen on the south curve where the club's diehard fans congregate.
This is despite the key role he has played as the club's driving force.
All five of Bayern's European titles - in 1974, 1975, 1976, 2001 and 2013 - came with him involved as either a player, general manager or club president.
Before his arrival as an 18-year-old in 1970, it had won just two of its 23 German league titles.
Bayern became Germany's first side to win the treble of Champions League, Bundesliga and German Cup under Jupp Heynckes last season, breaking or equaling 25 league records.
Hoeness was instrumental in luring Heynckes's successor Guardiola to Munich and Bayern has thrived this season under the Spaniard, enjoying a 20-point lead in the league.
Bayern is on a record 49-match unbeaten run in the league and having reached the quarterfinals, could become the first team to defend the Champions League title.
But as a club that places great store in its ethical approach to ticket prices and as a staunch supporter of UEFA's Financial Fair Play regulations, Hoeness is now a deep embarrassment to the Bavarians.
He has repeatedly scorned Europe's wealthier clubs, such as Chelsea and Paris Saint-Germain, for how their rich owners have used their wealth to challenge for titles.
He has often voiced criticism of the debts incurred by the top clubs in Spain at a time of economic struggle in the country.
His uncompromising approach and finger-pointing has won him few friends outside of FC Bayern.
The German media has had a field day by recycling some of his previous statements.
"Of course I want success, but not at any price," he told magazine Brand Eins in 2011. "When it comes to money, sometimes you have to be satisfied."
The key problem for Bayern now is how it handles Hoeness and the fallout from his verdict.
"Uli Hoeness is a very important person for us. He is a great man for this club," France winger Franck Ribery said after the Arsenal match.
"You can't envisage Bayern without Hoeness."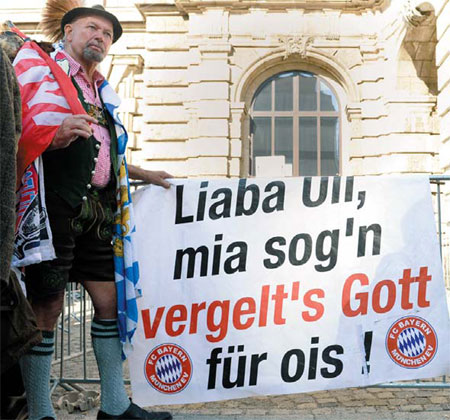 A Bayern Munich supporter dressed in typical Bavarian clothes holds a banner in Bavarian which reads 'Dear Uli, thanks for everything' in front of the regional court in Munich, southern Germany, during the trial of Uli Hoeness, president of Bayern Munich, on Thursday. Christof Stache / AFP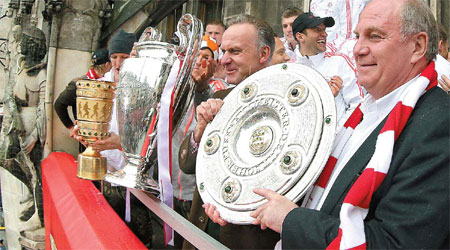 Bayern Munich president Uli Hoeness (right) holding the Bundesliga trophy, CEO Karl-Heinz Rummenigge (center) the Champions League winners trophy and midfielder Bastian Schweinsteiger (left) the German Cup pose on the town hall balcony at Marienplatz, a day after the team won the German Cup DFB Pokal in its final game against Stuttgart last June. Alexander Hassenstein / AFP
(China Daily 03/16/2014 page12)