Daly shoots a 12 on his way to career-high 90
Updated: 2014-03-16 08:12
By Associated Press in Palm Harbor, Florida(China Daily)
| | | | | | | | | |
| --- | --- | --- | --- | --- | --- | --- | --- | --- |
|   | | Print | | Mail | | Large Medium  Small | 分享按钮 | 0 |
John Daly has gone 17 straight years on the PGA Tour with at least one round in the 80s. He didn't even manage that on Friday at the Valspar Championship.
He missed a 4-foot putt on the last hole at Innisbrook and shot a career-high 90.
"I didn't give up," Daly said. "I tried."
He used up 12 of those shots on the 16th hole - tied for his fourth-highest score on any one hole - but was more concerned with the putting yips. Daly said the yips began last Sunday in Puerto Rico and reached a low point at Innisbrook.
He took 70 putts over two days, including a four-putt on the second hole of Friday's round.
"You are going to have big scores on holes. That is just the way golf is," Daly said. "But when you have got the yips, that is no fun."
For Daly, there was nothing fun about Friday, especially the 16th hole.
He started with a tee shot into the water. He had about 270 yards to cover the lake after his penalty drop and failed twice. From there, he hit a smother-hook well to the left of the water, only to hit what he described as a shank with his 7-iron well right of the green. He took three chips to reach the green and one-putted for a 12.
Daly's highest score ever was an 18 on the sixth hole of the 1998 Bay Hill Invitational. This wasn't anything like that. For one thing, he hit only three balls in the water.
"I got two good drops and hit a heel-cut 3-wood into the water," he said. "Then I shanked a 7-iron, chili-dipped a chip, it was buried, didn't get that out ... It was a good 12. I got up-and-down for 12."
It was the 16th time on the PGA Tour that Daly has made at least a 10 on a hole. Friday was the one-year anniversary of his most recent when he took a 10 on the third hole after twice hitting a tree while trying to get out of a forest.
On the PGA Tour alone, he now has 62 rounds of 80 or higher.
Daly said he needed to find help with the yips after what already has been a bad week. The 47-year-old with two majors said he was treated for plantar fasciitis in his left heel on Wednesday, and he was walking with a slight limp toward the parking lot.
"I am falling apart," he said.
The putting is what unnerved him. Daly had some of the softest hands in golf when he won the 1991 PGA Championship and the 1995 British Open at St. Andrews. But his putting stroke, even more than elbow surgery last year, has hurt him. His last good chance to win a tournament was the 2005 American Express Championship at Harding Park, where he three-putted from 15 feet in a playoff against Tiger Woods.
"It is my head, my hands, and I can't stop it," Daly said. "On a short stroke, I get quick. On my normal, long stroke, I come up. Even my legs are moving. I should just go put myself in a straitjacket and try that. I've always been a quick putter, so I should never get the yips. But I got 'em, I got 'em bad.
Daly, who has been playing on sponsor exemptions for the past eight years, was not sure where he would play next. He said he was supposed to play in Indonesia in a few weeks for the start of the OneAsia circuit, but the missing Malaysian Airlines flight has shaken him up.
"I was going to Indonesia, but since they can't find a 777," he said, shaking his head as his voice trailed off. "I ain't about to fly on a plane right now. It is a sick feeling. I would have to go right there. I canceled it. I said, 'No way I'm getting on a plane to fly overseas'. A 777? One of the nicest planes in existence?
"It's scary," he said. "There are more important things in life than a round of golf. I am scared to fly. Our world, it is scary what is going on. (Buildings) blowing up in New York. A guy running over people in Austin, Texas? What the hell is going on? It is frightening."
In his eyes, a 90 didn't seem so bad.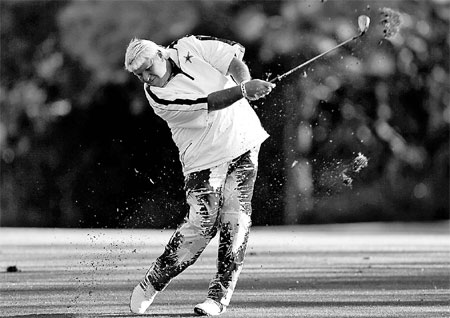 John Daly takes a divot as he hits from the seventh fairway during the second round of the Valspar Championship tournament at Innisbrook on Friday in Palm Harbor, Florida. He recorded a career high of 90 strokes in the round. Chris O'Meara / Associated Press
(China Daily 03/16/2014 page11)