A city of romance
Updated: 2014-03-16 08:11
By Matt Hodges(China Daily)
| | | | | | | | | |
| --- | --- | --- | --- | --- | --- | --- | --- | --- |
|   | | Print | | Mail | | Large Medium  Small | 分享按钮 | 0 |
Cupid has plenty of room to maneuver in the Thai capital amid the de-escalating protests, despite the simmering threat of violence in select pockets of the city, especially if you choose the right resort in one of Asia's most exciting destinations, writes Matt Hodges.
I arrived in Bangkok before Valentine's Day for a romantic getaway and ended up heading from the airport into the heart of an anti-government protest site. That had not been part of the original plan. The fearless metro staff had directed me to Silom Road without batting an eyelid. As this was one of several rallying sites in the city - some were in the process of being dismantled - it says something about how dangerous they considered the situation to be.
I could have taken a taxi to my hotel, but the train from Suvarnabhumi Airport connects smoothly to the MRT (mass rapid transit system) and stands as a cheap and easy alternative.
I expected to find a capital under siege, in lockdown, with panic in the streets. But instead of ricocheting bullets and stun grenades, I was greeted by a sprawling outdoor market and carnival-like atmosphere.
Even the police were in good humor, with little to do except direct traffic. In fact, if the protests continue, the biggest threat to your trip is likely to be greater congestion in areas like Lumpini, Asok-Sukhumvit and Ratchaprasong. Motorbike taxis afford a thrilling way to circumnavigate this problem, at your own risk.
Locals told me that the day market in Silom had blossomed into its current state after the city's residents stepped up their campaign several months ago against what they view as the puppet government of caretaker Prime Minister Yingluck Shinawatra, the younger sister of the country's deposed leader Thaksin.
But despite periodic outbursts of violence in pockets of the capital, the rallying sites are still considered peaceful enough by locals to rank as trendy hang-out spots at the weekend or on public holidays. Cheap protest T-shirts ($10) by one famous Thai designer have even become the must-have accessory of Bangkok's middle class.
At Silom, stalls stretched down the road for around 1 kilometer, selling everything from pad Thai (stir-fried noodles with eggs, tofu and shrimp or chicken) to hairy coconuts, protest pins and counterfeit iPhone cases bearing the catchphrase "Shut down BKK". In front of one stall, someone had parked a pink Beetle with the same slogan pasted in English and Thai on its windscreen, and a tip box on the roof. The area was a creative hotbed.
It was hard to reconcile what I saw with the images of violence that have made front-page news in past weeks. A disappointingly small gathering listened to one man speak from a truck, but his speech was soon drowned out by the strains of pop music from the market stalls and the intoxicating smell of Thailand's street food. It was like the protesters were hoping to topple the government without disturbing the shoppers and picnickers.
Much like the Plexiglas shields of the riot police on standby, the itinerary for my trip with a former flame was bulletproof: Three nights at the Shangri-La Hotel, Bangkok (it has a sister property in Chiang Mai); dinner reservations at Salathip, its exotic riverside Thai restaurant; an evening at Asiatique, a trendy new riverfront development for shopping and dining that the hotel offers a free shuttle boat service to; and day trips to the Grand Palace, backpacker-friendly Khao San Road and Taling Chan floating market.
As the Tourism Authority of Thailand (TAT) has joined hands with big department stores in Bangkok to offer a series of special promotions from June 15-Aug 15 to lure big-spending Chinese, we also decided to check out Siam Paragon (a luxury goods Mecca nestled beside another protest site).
To grease the wheels of romance, I picked up a bottle of Veuve-Clicquot from a duty-free shop at the airport. I'd also booked a river-facing room at the hotel's original but newly renovated Shangri-La Wing. This is recommended for its stunning night views of the main pool, flanked by palm trees and the Chao Phraya River.
The room was so inviting that we ended up ditching Plan A (a popular live music bar downtown) and partied there early into Saturday morning. I was even able to blast my iTunes playlist, despite forgetting to pack a universal adapter, as there was one built into the work desk.
This was one of a number of nice touches that brightened my day, along with the free Wi-Fi and homemade fudge on the bed when I arrived.
So the stage was set. My sassy Korean ex-girlfriend was going to be blown away, emotionally, that is.
One of my Chinese colleagues and his wife were set to join us for their mini-honeymoon. Both women had subsequently expressed reservations about the trip, which had been arranged before Bangkok went into a 60-day state of emergency. Even I was beginning to second-guess myself as I reassured them it would be fine. But we needn't have worried - this was a different beast from the one rampaging around Kiev or Crimea.
Outbound tourism from China to Thailand ballooned by 68.83 percent in 2013, according to Thailand's Ministry of Sports and Tourism, due in part to recently simplified visa-entry policies (Chinese can now get them processed in as little as two days). It is projected to keep growing by 40-50 percent for the next several years. Moreover, the "Land of Smiles" has remained the No 2 destination for flights out of Shanghai for the past three months, according to Ctrip, second only to South Korea.
Yet the streets of Bangkok were quieter this time around. Chinese New Year was drawing to a close - Feb 14 also being its official end-date this year - and Chinese tourists to what Time magazine called the world's most-visited city in 2013 had fallen by 8.56 percent in January compared to 12 months earlier. The sporadic episodes of violence, including several bombings, have caused at least 20 casualties since Nov 30, understandably setting nerves on edge.
Things seem to have stabilized somewhat in recent weeks.
"The overall situation in Thailand at present has become more peaceful since the demonstrators returned many areas back to normal," the Tourism Authority of Thailand wrote in an e-mail on March 10.
Those unfazed by the hot-and-cold state of affairs in the capital can still enjoy this chaotic and romantic city from one of its world-class hotels, especially those perched beside the river. Of these, the Shangri-La offers the most tropical oasis-like ambience. Spending a few days within its bubble world had long been on my to-do list. It was worth the wait.
Highlights included sipping cocktails at the outdoor bar as party boats cruised by blasting songs from the 1980s; dining at its opulent Cantonese restaurant, Shang Palace; and hitting the river-facing gym, which offers Thai kickboxing, yoga and Pilates classes. This was the first time I'd bench-pressed while watching squirrels hop along tree branches just a few meters from my nose. We skipped the hotel's famous Chi spa due to a lack of time.
Dinner at the recently refurbished Shang Palace was a culinary treat - kudos to executive chef Sham Yun-ming from Hong Kong for his wok-fried lobster with ginger and onion sauce, dim sum selection, and mango pudding - but Valentine's Day dinner at Salathip (THB1,800 or $45 per person) was as romantic an experience as you could ask for. The teak pavilion looks like a small wooden palace set in a tropical garden.
As a testament to the Shangri-La's world-famous hospitality, they threw in a complimentary red rose, glass of champagne and traditional Thai warrior dance performed at our table. The fireworks after sunset were an unexpected bonus as strangers across the "river of kings" celebrated the end of the Chinese New Year.
Contact the writer at matthewhodges@chinadaily.com.cn.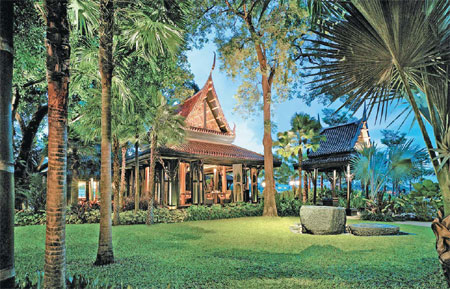 Valentine's Day dinner at Salathip is as romantic an experience as one could ask for. The teak pavilion looks like a small wooden palace set in a tropical garden. Provided to China Daily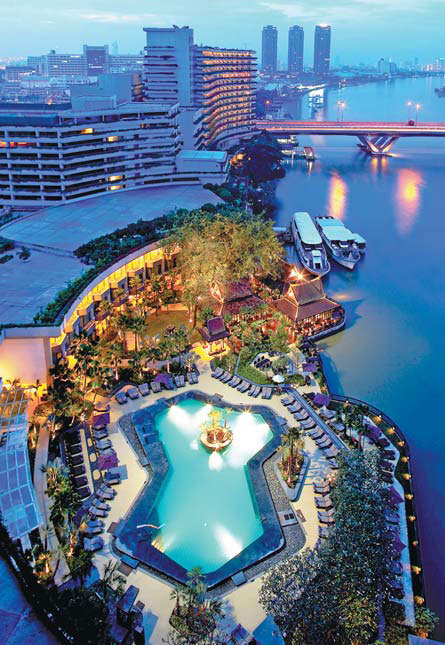 The swimming pool at night and the exotic riverside Thai restaurant Salathip. Provided to China Daily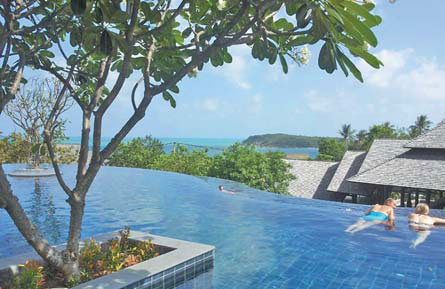 The infinity pool at Nora Buri Resort and Spa in Bophut. Matt Hodges / China Daily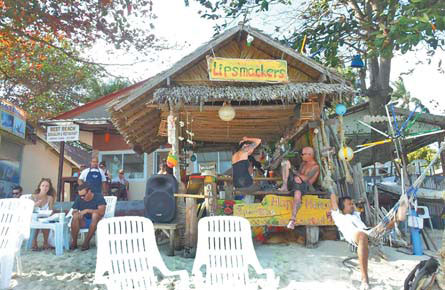 Reggae Bar on Chaweng Beach has a throbbing nightlife. Matt Hodges / China Daily
(China Daily 03/16/2014 page10)