World Scene
Updated: 2014-03-16 08:09
(China Daily)
| | | | | | | | | |
| --- | --- | --- | --- | --- | --- | --- | --- | --- |
|   | | Print | | Mail | | Large Medium  Small | 分享按钮 | 0 |
Family holds hope for Schumacher
Michael Schumacher is showing "small, encouraging signs" of recovery from injuries sustained in a ski accident, his family said in a statement released by Schumacher's agent Sabine Kehm on Wednesday. The family voiced confidence the 45-year-old would pull through after 11 weeks in a medically induced coma. "We are and remain confident that Michael will pull through and will wake up," the family said. "There sometimes are small, encouraging signs, but we also know that this is the time to be very patient." The German driver was put into a coma after hitting his head on a rock while skiing at the French resort of Meribel on Dec 29.
Bieber to face Miami court in May
A Miami judge has set a May 5 trial date for Canadian pop singer Justin Bieber, who faces charges of driving under the influence, resisting arrest and using an expired license after police say he was caught drag racing in Miami Beach. Bieber, 20, has pleaded not guilty to the charges. The initial March trial date was postponed after lawyers for Bieber and several news organizations argued in court over whether the media should have access to video images of the singer while he was in police custody following his arrest on Jan 23. Police arrested Bieber for drunken driving after officers stopped him in a rented yellow Lamborghini alongside another driver in a red Ferrari on a main Miami Beach street. Two SUVs had blocked off the road so the singer could race a friend, police said. If convicted, Bieber could face six months in jail.
Carer posed as elder to steal cash
A carer in the United Kingdom disguised herself as an 81-year-old Alzheimer's sufferer in an attempt to steal 22,000 pounds ($36,600) from a pensioner under her charge. Linda Cramphorn, 47, tried to convince bank workers she was an elderly woman by donning a wig and glasses and carrying a walking stick. She managed to withdraw 400 pounds while pretending to be the victim - but aroused suspicions when she asked for a 22,000 pound banker's draft. In another strange twist, CCTV footage of the incident showed a member of staff dressed as Batman for charity walking past Cramphorn, oblivious to the crime. Cramphorn and her partner, Sanjay Patel, 43 - who was waiting outside the bank in a car and kept up the pretence that Cramphorn was an elderly woman - were subsequently arrested. Both defendants, from Whetstone, Leicestershire, were jailed for 16 months on Tuesday after admitting fraud by false representation.
Three more seasons for Sheldon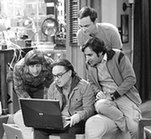 US broadcaster CBS last week announced that the long-running sitcom The Big Bang Theory has been extended for a further three series. The show, which centers on a group of high-functioning science "geeks", is now due to air until at least 2017. The most recent series was seen by almost 20 million viewers in the United States. The program, which is currently in its seventh season, was the top-rated sitcom on US television in 2012-13. Its co-creator Chuck Lorre is also behind comedy Two and a Half Men, which is also likely to be renewed along with his other current hits, Mike and Molly, and Anna Faris sitcom Mom.
Flight diverted after honeymoon spat
A groom on his honeymoon got into a drunken argument with his bride aboard a flight form Atlanta to Costa Rica, forcing the Delta Air Lines aircraft to make an emergency landing on Grand Cayman island on Sunday night, authorities said. The US citizen was escorted from the flight after it landed by Cayman Islands police and was being held in custody on a charge of drunk and disorderly conduct. The bride remained aboard for the flight to San Jose, Costa Rica. The names of the bride and groom involved in the incident were not released. The removed passenger could face further charges under international air law. In a separate incident, a Delta flight from Baltimore to Salt Lake City was diverted last month due to an unruly female passenger who was described by officials as intoxicated.
US toddler found with heroin
A New Jersey man has been charged with endangering the welfare of a child after his toddler was found with dozens of heroin packets at daycare, police said on Tuesday. A worker at the child-care center in Paterson, New Jersey, about 20 miles west of New York City, discovered 48 glassine envelopes of heroin stuffed in the 2-year-old's jacket on Monday, according to Paterson Police Lieutenant Bert Ribeiro. The employee called police, who determined the father had accompanied the child to the center that day. There was no indication the child was aware the drugs were in his jacket, police said. The child's father, identified by police as Phillip Young, 27, was arrested and being held on $85,000 bail, authorities said.
Agencies
(China Daily 03/16/2014 page4)