Frustrated families approach the boiling point
Updated: 2014-03-16 08:08
By Hou Liqiang(China Daily)
| | | | | | | | | |
| --- | --- | --- | --- | --- | --- | --- | --- | --- |
|   | | Print | | Mail | | Large Medium  Small | 分享按钮 | 0 |
Relatives of missing flight's passengers vent emotions as ordeal drags into 2nd week
The room in Metropark Lido Hotel had filled with at least 200 relatives of passengers of the missing flight MH370 at around 8:30 am - half an hour before a presentation by representatives.
The Malaysia Civil Aviation Administration representative shared all the communications recorded between the pilots and air traffic controllers. He also showed several screenshots of the radar charts showing where contact was lost with MH370.
The representative seemed like a teacher lecturing in a classroom, using a laser pointer to show which part of the PPT he was reading from.
He seemed to be a good teacher. He explained every item in careful detail.
But the relatives were not good "students". Many showed little interest.
Many of the passengers' loved ones left their seats before the presentation was finished more than 50 minutes later.
A Q&A session followed but was disrupted by an argument among relatives, temporarily causing the representatives to leave.
What began as hostile words over a woman's ringing mobile phone escalated into a physical altercation that put guards on high alert, a representative told me. The quarrel ended when others persuaded those arguing to calm down.
The incident came about suddenly but not unexpectedly. The room was full of powder kegs - people whose hearts have been brimming with explosive anger.
They have unleashed their rage on representatives, journalists and one another.
While the administration representative was not warmly welcomed, the Malaysia Airlines representative got the worst reaction from the crowd.
He got questions like "When can the Malaysian military representative come?" and "Why wasn't the military's radar-tracking information made public earlier?"
The question he kept getting was "when?", especially after he said he had passed their questions to related parties but did not know when they could answer them.
Many relatives refused to let the representatives leave the room after they said they had received calls from Malaysia. The crowd only acquiesced once the representatives told relatives they needed to go to prepare for a live broadcast of the Malaysian prime minister's news conference.
Some people persisted, rushing toward the representatives and saying: "You can't leave!" These people were stopped by other relatives.
The hopes pinned on the news conference could be seen in relatives' faces.
They arrived long before the conference's scheduled start time. The conference was postponed several times.
Some left the room quietly after the prime minister said the flight's route was changed deliberately.
Some said this is good news since their loved ones may still be alive.
There were few people in the room 20 minutes after the live broadcast. Most were journalists.
houliqiang@chinadaily.com.cn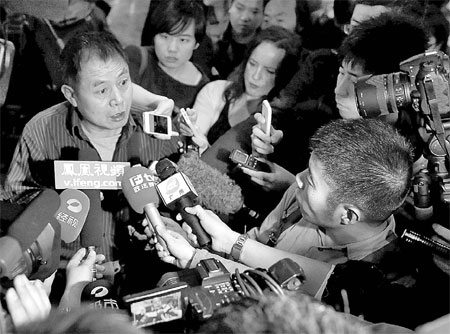 Journalists swarm around Wen Wancheng, a relative of passengers on board the missing jetliner MH370 at Metropark Lido Hotel in Beijing, following a live broadcast news conference by the Malaysian Prime Minister Najib Razak in Kuala Lumpur. Feng Yongbin / China Daily
(China Daily 03/16/2014 page2)