Found in translation
Updated: 2014-03-16 08:07
By Mike Peters(China Daily)
| | | | | | | | | |
| --- | --- | --- | --- | --- | --- | --- | --- | --- |
|   | | Print | | Mail | | Large Medium  Small | 分享按钮 | 0 |
China's opening-up in the 1980s created an instant demand for translators as the nation reached out to the world. Thanks to nonstop economic growth, people-to-people exchanges and Chinese aid to other nations, speaking in tongues is a ticket to the future, Mike Peters reports.
Most often, a bad translation is just funny. Whole books have been compiled about "Chinglish" signs. But sometimes a fumbled rendering of language can be offensive.
Or even fatal.
Take, for example, a European winemaker and animal lover who has taken in abandoned cats, dogs and even a donkey during his years in China. One night he became nearly distraught when he realized that, in the restaurant where he was dining, dozens of pigeons were being hauled from coop to cookpot just a few meters away while folks like himself placed their dinner orders.
After a brief internal struggle, he could stand it no longer. He summoned the manager and declared he would buy every bird the manager had to take home.
"All of them?" the manager asked through an interpreter.
Then the delighted restaurateur went out back and began wringing feathered necks left and right, as the kitchen went into high gear to prepare the giant takeaway order.
Everybody has a funny story about interpreting gone wrong, but converting words from one language to another is serious business - one that has been booming on several levels since China's opening-up began in earnest in the 1980s.
It can make you a star, from inside the establishment or far outside.
Lin Chaolun, a native of Fujian province, is known for translating for Britain's Queen Elizabeth II and former prime minister Tony Blair. A graduate of Beijing's University of International Business and Economics - and today a visiting professor there and at Bath University - Lin also worked at the BBC for seven years and has written or edited several textbooks on "combat translation" and interpreting.
More famous, or perhaps infamous, is Su Feifei. Her translations of adult video games from Japan have been an Internet sensation in China - and earned her a short stint in prison. Her website 3DM, with a forum run by some paid but mostly volunteer translators, has fans from players to pirates to social commentators.
"People want to play the games and play them for free," one fan says. "Some of us see her as a goddess."
The controversial platform includes access to illegal games like Resident Evil, Grand Theft Auto and Tomb Raider, but on her weibo (micro blog), Su seems torn between the rebel path and converting to an all-legal site. That would mean buying the rights to the products she translates - not to mention navigating some shoals of Chinese law.
Su isn't the only figure out there who makes translating seem edgy or hip. This week at the UIBE, there was a lecture on localization by the translator of Angry Birds, while the Beijing Bookworm's literary festival included a "translation slam" with a Tibetan poet. The challenge: "Overcome the hurdles of translating with accuracy, maintaining rhyme, rhythm and meter, and bringing across the dual meanings of metaphors and similes."
It's not the first such slam at a bookstore in China. And it won't be the last.
David Bellos, a professor of French and comparative literature at Princeton and Booker Prize-winning translator, poses a fundamental question: How do we ever really know that we've understood what anybody else says - in our own language or in another?
In his recent book, Is That a Fish in Your Ear?: Translation and the Meaning of Everything, he notes that in a globalized world translators are as crucial as ever to help us understand one another. He scoffs at the idea that the ubiquitous Google Translate and its increasingly more sophisticated ilk are going to make flesh-and-blood professionals obsolete.
The bottom line: Growing demands of diplomacy, education exchanges, business development and technological innovations are making folks that have a way with other people's words in high demand.
English and French are perennial hot tickets in China, but Spanish and Portuguese interpreters - far fewer in number - can command bigger bucks, about 1,000 yuan ($162) per day. Freelance translators - all but unheard of in the iron ricebowl era - are starting to pop up, especially in industry.
China has pushed to produce translators to meet domestic needs and ensure Chinese who go abroad are certified in a way that meets international standards. When the nation created several new master's degree programs in 2007 aimed at "practical" disciplines, one was the MTI: master's of translation and interpreting. At least 158 degrees in the field have now been bestowed by universities across China.
"It's very difficult to test ability," says Geoffrey Murray, a veteran British journalist in China who now lectures at the China Foreign Affairs University in the capital. "We test comprehension in multiple ways."
One of Murray's jobs is to prepare students for the CATTI, or the China Accreditation Test for Translators and Interpreters. Developed in 2003, it has separate tests for interpreting (designed to test comprehension) and translation (more focused on language use and grammar skills).
At Level 3, the easiest, about 30 percent of test-takers pass, while just 10 percent get through at Level 2. Level 2 certification is good for three years and then must be renewed. Today the rigorous CATTI is generally accepted for English, Japanese, Arabic, French and Spanish around the world. (There's also a brand-new test for professionals administered by the United Nations.)
"I'm constantly designing in-class exercises to expose students to different situations in the working world they will enter," says Murray, who's also the male voice on the pre-recorded oral exam. (Part of the test is recorded by a woman, whose accent is North American.)
"In class, I ask them to do a conference interpretation module - there is big demand for that - as well as playing a role at a press conference, being interviewed or interviewing, and conducting a business negotiation."
He also gives students Ted.com postcasts to accurately summarize to expose them to different dialects.
The CATTI Level 2 certificate is a passport to most good jobs in the field in China.
Often, it's also a passport out of the country.
"Getting into universities in the UK and the US is very competitive," Murray says. "The outside institution is always eager to get a sense of how good the candidate's English ability is, and CATTI certification is a big plus. It's proof of practical ability and more impressive than just having a good score on the IELTS or TOEFL test, the proficiency tests required by most schools abroad."
One challenge is that Chinese students are conditioned to be timid and literal, rarely rethinking translations like this one: "Two farmers have dedicated their lives to developing half-bred rapes for the past 36 years." (The farmers were growing hybrid rapeseed.) So editors must do a lot of rewriting to ensure sense and a readable word flow.
Experts also say translators need to be more tech-savvy and know their way around computer-assisted translation, or CAT as it's known in the trade.
Tian Huicai, who runs a language consultancy in Beijing, says "70 percent of our foreign counterparts are doing CAT, while only 30 percent of Chinese translators are doing it. A lot of us are still using traditional dictionaries".
Finally, despite the fact that Chinese students have often been studying English for 15 years before they seek a master's degree in translation and interpreting, the language instruction is often poor and the resources are thin.
One example is the immense New Age Chinese-English Dictionary, a classic volume that has been a standard in schools for many years.
"Like many bilingual dictionaries, it's old and full of errors," Murray says.
It's arguably an ironic example of meaning lost in translation. He participated in a 2.5-year effort to improve it, he says, that required rewriting virtually every entry.
That done, the new reference is due to be published later this year. Like the recent introduction of a master's degree program for translators and interpreters, it's one of many steps China is taking to make sure its story is better understood in the world.
Contact the writer at michaelpeters@chinadaily.com.cn
Wang Peng contributed to this story.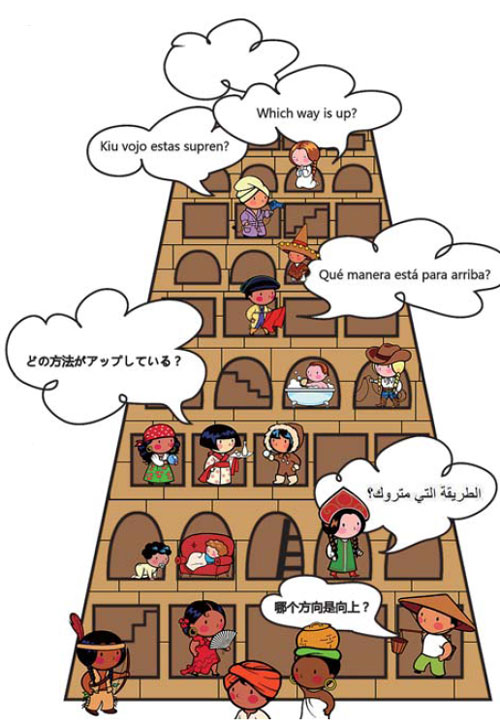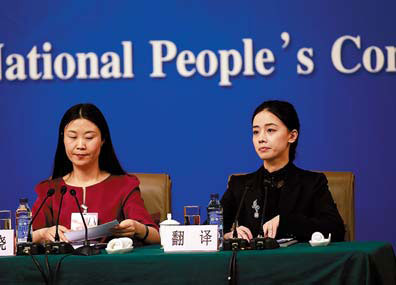 Translators play important roles at the two sessions. Feng Yongbin / China Daily
(China Daily 03/16/2014 page1)