Crying their hearts out
Updated: 2014-03-09 07:51
By Chen Nan(China Daily)
| | | | | | | | | |
| --- | --- | --- | --- | --- | --- | --- | --- | --- |
|   | | Print | | Mail | | Large Medium  Small | 分享按钮 | 0 |
Taiwan photographer Hsu Shengyuan tells a story in images of the pain behind women's tears and the trust between model and lensman. Chen Nan reports.
Three years ago, while pursuing his studies in the United Kingdom, Taiwan photographer Hsu Shengyuan watched a silent video in class, I'm Too Sad to Tell You, by Dutch conceptual artist Bas Jan Ader. He was struck by the video, which consists of the artist crying in front of a camera.
"The video is silent and simple but it's powerful, and touches my heart," Hsu says.
"It's one of Ader's most popular works, made in 1970. Though he passed away a long time ago (in 1975, at age 33), his video is still seen by people today and touches us."
That's when the obsession started. After gaining his master's degree in photography from the University for the Creative Arts, he returned to Taiwan and launched a project called Crying Girls.
During the past three years, he has photographed more than 300 weeping girls aged between 20 and 35 from Hong Kong, Taiwan, Beijing and Shanghai. Now Hsu is in Beijing to unveil a photo exhibition titled Crying Girls at Beijing's Today Art Museum as part of his Asian tour exhibition.
"Crying is one of the most private emotions of a human being. I want to explore and discuss the ambiguous relationship between the photographer and the person in the photo through the project," says Hsu, 31. "I want people, both those in the photos and those who are watching the photos, to feel connected and real."
The beginning was hard. Hsu recalls that he called for volunteers online but got few responses. Though he gave detailed elaboration about his project, most people still couldn't understand his idea.
"There were many times that the girls changed their minds the day before the shoot, which was really disappointing," Hsu recalls.
The first girl, who agreed to be in the project, was from Taiwan. Hsu came to her house and listened to her story. As she talked about her good friend, who passed away in a recent car accident, she started to cry.
"I started to click the shutter. She kept on talking and crying," Hsu says. "I couldn't remember how long it took. I just let her cry out as long as she wanted. I did nothing but listen. At that moment, I realized that it's not simply a photo-shooting project. It's about a girl's trust in a stranger and our communication."
Building trust is crucial for the project, Hsu says, and it's not easy for a girl to shed tears in front of a stranger. Before his shoot, Hsu would play music and chat with the girls randomly to create a relaxing atmosphere, from minutes to hours, depending on the volunteers' emotions.
As the girls told their sad stories, the photographer waited for the right moment to take pictures.
"Although shooting weeping girls cost me a lot of time and made me exhausted, at the same time it was a very sacred creation for me," he says.
The only thing that he required the girls to do was to be there without makeup because he wanted to display the most real and natural moment.
Hong Kong singer-actress Tse On-kei is one of the criers photographed. She contacted Hsu after viewing his photo exhibition in Hong Kong. At first, Tse wanted to join the project because she thought it matched well with one of her Mandarin songs, The Name of Tears. But as she learned more about the project, she gained a different perspective.
"Those girls show their most vulnerable sides to strangers. I feel close to them, especially after reading their stories," says Tse, 37.
When she sat in front of Hsu's camera, she told one of her unforgettable stories, which she buried in her heart for years: Her aunt, who raised her, had passed away when she was 13.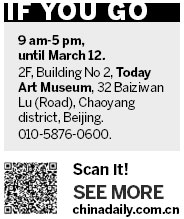 "It was the first time that I saw such a close family member stop breathing and leave me forever," Tse says. "I hid my emotion and never told it to anyone, including my mom. But when I talked to Hsu, I could recall the moment clearly. I cried for a long time unconsciously.
"We have to wear masks every day and pretend to be smiling. The experience was such a relief for me."
According to Hsu, 80 percent of the girls cried because of a breakup. "They just couldn't let it go. But I am glad to see that some girls wrote me letters and said they feel much better now," the photographer says.
Among all the photos showcased in the exhibition, a photo of Hsu's ex-girlfriend is very special to him. In the photo, a short-haired, big-eyed girl cries with tears falling down her cheeks.
"We broke up three months ago. I wanted to take her to the exhibition but things changed," Hsu says. "So, personally, I am connected to those photos, which witness my life change. I hope the viewers can feel their tears at that moment while watching the silent, motionless photos."
Since the project is nonprofit, Hsu has also worked for several high-profile clients to make ends meet, such as capturing behind-the-scenes photographs of Ma Ying-jeou, the mayor of Taipei, during the re-election campaign in 2012. He also cooperated with fashion magazines, such as GQ Taiwan, to shoot commercial photos.
As a sequel to Crying Girls, Hsu's next project is Angry Men, in which he will photograph men losing their temper in front of the camera. He also plans to take photos of his parents and their memorable places, such as the places where they first dated and held their wedding.
"It's shameful that though I am a photographer, I have never taken photos of my parents," Hsu says. "I am not an ambitious person. I just want to capture the real moment and tell the story behind it. If you feel moved by my photographs, I am fulfilled."
Contact the writer at chennan@chinadaily.com.cn.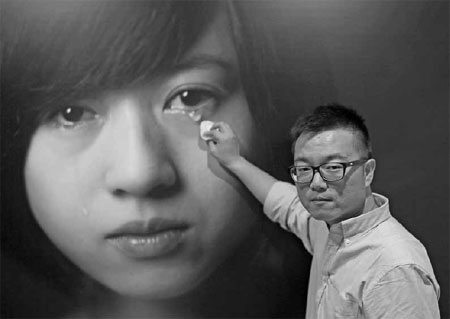 "Although shooting weeping girls cost me a lot of time and made me exhausted, at the same time it was a very sacred creation for me," Hsu Shengyuan says. Zou Hong / China Daily
(China Daily 03/09/2014 page9)