Ingredients of success
Updated: 2014-03-09 07:51
By Mike Peters(China Daily)
| | | | | | | | | |
| --- | --- | --- | --- | --- | --- | --- | --- | --- |
|   | | Print | | Mail | | Large Medium  Small | 分享按钮 | 0 |
Executive chef Nicholas Blair tweaks the way things are done in a venerable institution without losing its essential character. Mike Peters reports.
Nicholas Blair never has much trouble working up a new menu when he needs to. For starters, he says, there are about 200 vegetables to choose from in his culinary tool box.
The executive chef at the Fairmont Peace Hotel likes to joke about that with the senior Chinese chef at the hotel, Xu Cailong, who will be retiring this year after more than three decades supervising restaurant kitchens.
"Xu remembers there were about 10 basic vegetables to work with maybe a decade ago," says Blair, 40, the energetic Australian who came to Shanghai last summer. Blair points out the fifth-floor window at the grand view of the Bund beyond adding: "We get along great - we sit down and chat like two old men drinking tea in the park."
Respect for ingredients is a process, Blair says, opining that young chefs today don't look after ingredients the same way.
Blair learned the respect for food that keeps him looking for quality in every carrot from his mother, who taught him to cook at an early age, and from a lifetime preparing cuisine in fine hotel restaurants. The Melbourne native has worked in China for a total of five years, collecting "China Top 10 Restaurant" accolades at the Golden Pillow Awards of China Hotels in 2011 and 2012.
In fact, he has opened five restaurants and overseen banquet operations for a big hotel in Taipei, after gigs at the Botanical Melbourne and the Ritz-Carlton in Sydney. Somehow, for a culinary master who seems to have done it all, the game still seems fresh, especially here and now.
"This is an amazing time and place," he says, waving an arm toward the casually elegant Cathay Room behind him. He's not speaking just of this Western-style restaurant, where he was preparing to serve a special Lunar New Year set dinner, but of the whole dining scene in China.
"Western fine dining was once taboo here - considered only for foreigners," he says. "Today it's a reflection of the lifestyle of young Chinese professionals."
The casual elegance of the room is a perfect setting for the comfortable new affluence of the diners. While plenty of foreigners come to the hotel to drink in the 1930s ambience of an art-deco gem, even more of the faces around the tables are Chinese.
Blair has enjoyed tweaking the way things are done in this venerable institution in small ways, without losing its essential character.
"When I got here, for instance, we would start with an individual French roll at every plate," he says.
Now service begins with a fresh-baked loaf for the table to share, and people break bread together. That intimacy over food reflects local eating traditions better, Blair believes.
Blair came to Beijing in 2007, eager to experience the build-up for the 2008 Olympics. He landed at Aria at the China World Hotel, where he was promoted to executive sous chef before jumping at the opportunity to open new Shangri-La hotels in Taipei and Dalian.
"The China market has more forgiving customers, but operations can be more demanding," he says. "You're dealing with very proud people." In Australia or Europe, he says, you must work in a professional kitchen for four years before you become a commis chef, and start working your way up the chef ladder of titles.
In China you can almost walk on to some of those roles, he says, though that's changing as the profession develops here.
"Instead of skill and qualifications, they would substitute numbers," he says, noting that when he first arrived in China there might be 20 or 30 chefs in a kitchen that might have operated with 10 or 12 in a similar venue back home.
A big believer in natural ingredients, Blair likes to keep the plate simple and consistent, with seasonal ingredients from nearby organic farms.
On this night, diners will start with Dalian abalone with French Fine de Claire oyster tartare. Flown in fresh, abalone from Northeast China is famous because the temperature of the water brings out the best quality. The centerpiece of the multi-course meal with wine pairings: Braised short rib of Angus beef, parsley puree and slow-roasted peach with star-anise veal jus.
Braising this famous short rib with aromatic Chinese spices, he says, is a great combination of Chinese cooking technique with Australian products.
"You need to add just a little edge," he adds, "to give both the kitchen staff and the diner something they haven't seen before."
Contact the writer at michaelpeters@chinadaily.com.cn.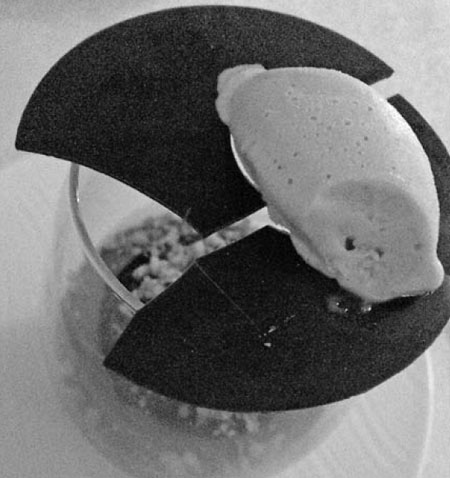 A sweet finish: Macerated cherries and chocolate noir with toffee ice cream and honeycomb coconut crumb. Mike Peters / China Daily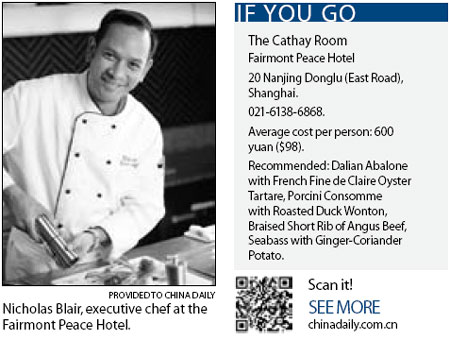 (China Daily 03/09/2014 page8)